Spindustry Digital will celebrate its 19th anniversary this fall. During that time, Spindustry's services have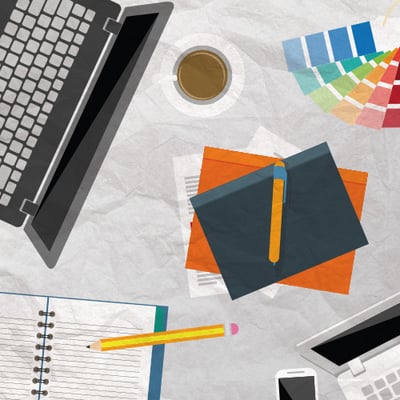 evolved to meet the digital needs of businesses. Our core foundation, building really stellar and solid web applications, hasn't changed. However, the phrase we use to describe our business has changed – from a web development shop to a digital marketing agency. We're often asked what that means or what it's like to work at a digital marketing agency. Here's the scoop.
Strategy + Technology + Design + Marketing Have to Work Hand-in-Hand
A website won't be successful if these disciplines aren't all working together. A functional website that was built without a sound strategy or with poor visual design won't meet the needs of site visitors. Or you can build a beautiful, functional, strategic site, but if you don't market it properly, no one will find it anyway. This process hasn't changed since the advent of the Internet; it's simply evolved. Tablet and mobile devices have changed how all departments approach building a website. Integration with social channels, email and inbound marketing has done the same.
While we have highly trained, skilled professionals in all of these fields, everyone has to understand how it all works together. Our SEO experts aren't developers, but they have enough technical knowledge to understand the complexities of development. Our developers aren't marketers, but they know that certain features and functions are necessary to optimize the marketing potential of a website. Our account directors have to be well-versed in all disciplines and manage internal and external relationships. We all work hand-in-hand to ensure that the digital needs of our clients are met from idea to execution. We share trends we see in our fields of expertise with other team members and pass along tips so that we provide the best comprehensive digital marketing services.
We Don't Stand Around Shooting Hoops and Drinking Beer
There's a certain stigma attached to tech companies or agencies, assuming we just "hang out" all day and somehow work gets done. While we're probably thinking about those things just as much as the next person, we sit at our desks and do our jobs. Our clients depend on us to deliver solutions to solve their business challenges and we take that job seriously. It doesn't mean that we don't have fun – we do. Our fun is rooted in the environment, goals and vision our leaders have created for our team and the dynamic people who work for our company. When Spindustry Digital was named the #1 top small-size workplace in Iowa in 2013, President Michael Bird said, "We continue to try and build an environment that fosters creativity, innovation, problem solving and a healthy dose of fun."
Another stigma about agencies is that it's a cutthroat environment. As a modern agency, we understand how critical working hand-in-hand is to the success of the business and that it reduces posturing among employees. Everyone shares in the credit of successes and pulls together to fix a problem. The agency environment is fast-paced. Changes are happening real-time, both in the needs of the business and the technology. We have to think, learn and react very quickly to what's happening in our industry and that of all our clients.
No Two Projects are the Same – But We Learn a Lot From Them
Most agencies work with a variety of clients, spanning a wide range of industries. This is true for our team, having partnered with clients in manufacturing, financial services, agriculture, retail, education, food services, non-profit, lifestyle and technology just to name a few. And with each client we serve, we solve a unique set of business challenges. We are able to draw upon years of experience solving problems with technology, and many times, our experiences across those various industries help us come up with innovative solutions for clients. That's one of the benefits of working with an agency. You're getting the combined experience and the ability for digital experts to collaborate with each other. That's tough to replicate if you're supporting only one or two in-house team members. An outside network of resources to support your digital ecocystem can really enhance the power of digital for your business.
The definition of a digital marketing agency will continue to evolve as technology changes. The fundamentals of our business are similar – it's simply how we execute a task to solve a challenge that changes. We're given the opportunity to expand on our knowledge and learn new tricks all the time, which makes working at a digital marketing agency a new experience every day.
Interested in working at Spindustry Digital? We're always looking for the right person to join our team.