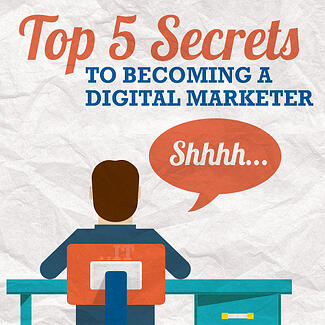 If you're an old-school, traditional marketer — like I was — you may be staring at all the digital tools in your toolbox trying to decide what to do with them. Those who have been in the marketing industry long enough to have built successful campaigns using direct mail, TV, radio, Yellow Pages advertising, trade shows and outdoor know that the industry has been flipped upside down. If you're a traditional marketer looking for a path to digital marketing, there are a few secrets you should know.
Many chief marketing officers, directors of marketing, VPs of marketing, account directors and marketing managers know email, SEO and social media are tools they should be using, but they don't know how to integrate them or what value to expect. Remember, there's one foundational piece of marketing that hasn't changed: you have to start by building a solid strategy. In fact, building that strategy and ensuring you know exactly who you're targeting is more important now than ever. Why? Because digital allows you to truly target your key audiences. Once you build that solid strategy and identify your audience, selecting the right tactic to execute will become much easier.
While there's still a time and place for traditional marketing tactics, don't be afraid to let go of your traditional media buys where it makes sense and start converting to digital marketing. Don't be afraid to let go of a tactic — like a print catalog — in favor of a trackable PDF version. Just think of the postage you'll save!
Here are five questions to ask yourself — revealing the secrets to becoming a digital marketer:
1. Ask yourself (and your team) why you're using that marketing tactic.
If the number-one reason you're doing it is "because we always have," challenge the status quo. There's nothing worse than doing something just because you always have. Knowing the real goal of why you're doing something will help determine whether your marketing goals can be successfully achieved using a cheaper, faster digital tactic.
2. Who are you really trying to reach?
If your target audience is "human, ages 10 to 70," there's a pretty good chance they're online. Now, define who they really are by creating personas. If you've been buying traditional sports media targeting men for the last 20 years, it's worth investigating potential new audiences — especially when you consider that 55% of women watch football today. It's good to create personas and evaluate them often.
3. How much is it costing you?
This isn't just the dollars spent on the buy — it's also your cost in time and energy. As an example, we all know direct mail can consume your time and your budget. Digital media sounds expensive, too — but in most cases, digital is less expensive, generates quicker results and provides greater ROI. Put together a spreadsheet of your current budget and time, then add a column for digital comparisons. It might just surprise you.
4. Are you getting results?
Is your traditional advertising even working? How do you know? Many times, it's hard to tell — aside from some anecdotal feedback or a gut instinct. That's the beauty of digital: it's measurable, so there's no more guessing. Also, the value shouldn't be understated of truly reaching your target audience. If you're fortunate enough to have an audience that all reads one magazine, your print ad might be in the right place. But how many people saw it and took action? That's truly tough to measure. How many people saw your Facebook digital ad? Not only do you know that answer, you also can see who clicked on the ad and if they made a purchase.
5. Can you convert traditional dollars to digital and see better ROI?
The answer is most likely yes. However, you don't have to make the switch all at once. First, assess where you are currently. Consider picking just one campaign or one type of traditional marketing to convert. If you have the full support of your team, you can go all in — but if you're a one-person team or a little reluctant, don't be afraid to take it slow. You could start with cutting Yellow Pages advertising and converting those dollars to SEO. Or send an email invitation instead of sending a paper invitation. If you have some people who don't respond, go ahead and send them a paper invite and measure the results — you could save thousands in postage alone.
It's time to embrace digital marketing. Let go of some of the old tactics, continue to test new avenues of marketing and don't be afraid of the change — especially of the title digital marketer!
Are you a digital marketer? Download the "Are You a Digital Marketer?" infographic to find out.