Every successful meeting shares one key ingredient – great food served. Whether it's a breakfast meeting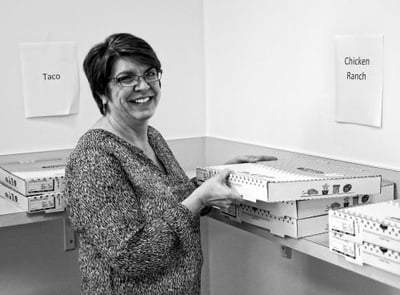 with clients, a monthly staff lunch or a late-night project marathon session with your co-workers, it's important to find the right food with the right service.
Each month, Spindustry hosts a staff lunch meeting for our Digital, Training and Staffing companies, and serving 40+ different taste buds for this meal can be challenging. Convenience, reliability and variety of food are key factors in finding the right restaurant to cater a meal. We asked Julie Tindall, our Office Manager and food-procurer extraordinaire, to share her top three recommendations for catered staff lunches.
Sarpino's Pizza
Sarpino's not only has great pizza, but also fantastic calzone wraps. The wraps are perfect for staff meetings, as they are individually boxed. They offer traditional sausage and pepperoni toppings, as well as more unique options like Gyro and Buffalo Chicken. They are always very timely in their food delivery and have friendly staff. Sarpino's also has convenient online ordering.
Jason's Deli
Jason's Deli features a variety of lunch options. A Spindustry office favorite is the Cool Wrap or Hot Wrap trays, which are a nice change from the usual sandwiches. The wrap trays come with a side of blue corn chips and Jason's homemade salsa. We also love their cookie platters – peanut butter, chocolate chip and snickerdoodle are the best!
Qdoba Mexican Grill
Qdoba has really good burrito bars. Our staff gets really excited about this as they can build a traditional burrito, or for a lighter touch, create a burrito bowl or salad. Also, their queso dip and chips are a must – we order double the amount!
Your Favorites?
Share in the comments below your favorite places to cater a staff lunch. Our staff is always looking for tasty new food options, and we imagine our readers appreciate new ideas too!