On Tuesday, January 12, 2016, Microsoft took a giant step by no longer supporting versions of Internet Explorer prior to IE 11. The company even introduced IE's replacement, Microsoft Edge, as a part of Windows 10. We answer questions regarding this change to help get you up to speed.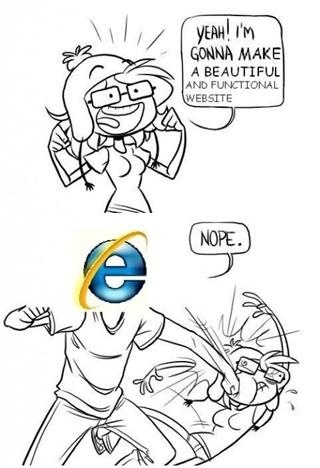 Why is IE such a nuisance for web developers?
Internet Explorer has always given developers a problem when testing web page visual consistency. According to Wired, the browser doesn't follow the guidelines set in place by the World Wide Web Consortium, which established the standards for online browsing technologies. This basically means web pages look different on IE than other browsers, making it frustrating for web developers to ensure websites looked and acted the same across IE, Firefox, Safari, and other browsers.
What if I use an older Internet Explorer version?
No, your browser won't suddenly stop working. But you'll begin seeing pop-up notifications on your browser to upgrade to IE 11. Even though you'll probably want to ignore them, there's a layer of risk by not doing the upgrade. Since older versions of IE won't be supported, there won't be updated security patches that limit its vulnerability to online attackers. For more info, visit InfoWorld. They offer a few options for securing your system.
Can I just switch to another browser, like Chrome or Firefox?
Yes! Then you should be good to go. The only problem comes if you are deeply in love with Internet Explorer. In that case, Microsoft Edge will be a great replacement. As it already comes with Windows 10, the transition shouldn't be an issue once you upgrade. If you aren't updating to Windows 10 any time soon, you can get it for your Windows 7 or 8 computers using a virtual machine.
What this change ultimately means is that Microsoft is stepping up to the plate in order to compete with big shots like Chrome and Firefox. Although the biggest impact will be within web development, it's always important to note what's new in order to keep your business running as smoothly and efficiently as possible.
If you have further questions about how this might affect your business, contact us.