Spend your marketing dollars wisely by optimizing your Facebook ad campaigns. Like with all popular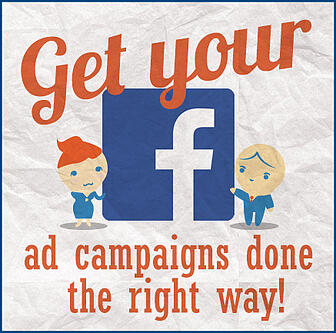 channels, saturation has dulled people's eyes to advertisements. Use our three tips to get more out of your ad spend.
1. Your target audience influences where your ad should be placed.
In Facebook advertising, you have the option to have your ad displayed on the desktop version of Facebook, in mobile news feeds, in the right column and in partner mobile apps. If your audience is Millennials, placing the ad in mobile news feeds is a better option than the desktop. If your audience skews older, selecting both desktop and mobile may be to your advantage.
2. The goal you want to achieve influences the type of ad to purchase.
If your goal of the advertisement is to drive your target audience to one simple action – sign up for an e-newsletter, use a discount code for a purchase or apply for a job – then use Facebook's "send people to your website" or "increase conversions on your website" objective. Facebook has formulated a layout, including strict requirements on character count and graphics, which maximizes the potential to convert on your call-to-action.
If your goal is to educate your target audience – expose them to a new brand, describe features of a complex product or share newsworthy information, then select Facebook's "boost your posts." This option has fewer restrictions but can more easily get lost in the news feed. Facebook has other ad options that are designed for very specific outcomes, like "get installs of your app" and "raise attendance at your event."
3. Run simultaneous ads to attract diverse target audiences.
Facebook has a significant number of targeting options, for example people who have expressed interest in cats, people who are frequent flyers and people who have expressed interest in chocolate. If you have a diverse audience base, don't try to serve one ad to everyone. Create multiple ads, working diligently to select the right demographic information and developing visuals and copy that resonate with that audience.
This also gives you the ability to invest your budget proportionate to your target audience. If the audience pool for people who have expressed interests in cats is significantly larger than people who are frequent flyers (which is true on Facebook by about 20 million), and that audience is key to you, then use more of your budget on the ad targeted to that demographic.
Digital advertising is just one component of your overall digital marketing strategy. If you'd like help evaluating your presence, reserve a time for your free digital assessment.