It's expected that by 2017, there will be 268 million app downloads. Apps are becoming serious business –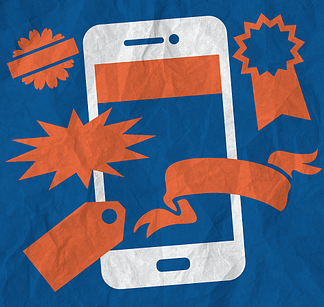 and an important element of your marketing plan. Apps aren't all mindless games; many provide timely news or allow for useful tracking capabilities. It's time to get your app strategy in order. Here are three tips to consider for successful app marketing.
1. Define the purpose of the app and the target audience it's meant to serve.
Just like any other business initiative you're tackling, you must determine which audience you're targeting and how your app will interest them. It's really easy to fall into the "let's make it fun!" theory. That is one avenue of strategy and sometimes it is the right one. Games are popular apps, but ask yourself if a game will help you meet a business goal. If yes, proceed. If not, think about functional ways an app can serve your audience.
As an example, think about apparel companies that have launched fitness tracking apps. Giving customers useful tools while building brand recognition is a great strategy in many instances. Also, it may be worth discussing multiple apps – it's possible your business can support a fun app and a functional app if they're both worthwhile to your target audience.
2. Prepare your pricing structure.
There are many schools of thought on how to price apps. Consider the following pros and cons for each strategy.
Free Apps
Pros: You can get fast buy-in. If you've marketed your app well and start getting hundreds or thousands of downloads, you've exposed your brand to a lot of people. This also gives you the opportunity to solicit feedback from a larger audience to guide future enhancements, especially if you decide to offer a paid version later.
Cons: How will you make money? You need to have a really solid strategy in place to take customers from paying you nothing for a service to paying you something for another service. Once you give it away for free, people won't want to pay for it later. Whether you go from free to fee or simply offer upgrades in service for a fee, some customers will be irritated and even remove your free version from their device. Most of those probably weren't your target audience so was it worth the time invested to get them in the first place?
Freemium Apps - This is a blend of free to fee. It means that when you launch your app, you have multiple versions – a free version that has limited, basic functions and then upgrade fees that give customers more features and functions.
Pros: You essentially get the best of both worlds – the opportunity to get a lot of exposure on the free downloads. You introduce your products and services to a wide audience, let them test-drive basic features and then up-sell them on expanded capabilities. If you built an awesome free app that people can't live without, they'll pay the upgrade fees.
Cons: It's challenging to build a really awesome app that people can't live without – especially one with extra features people will want to buy. Someone else may have those extra features for free. There's also the chance customers love the free features enough to simply stick with those. No matter if you offer free or freemium apps, sometimes you have to consider revenue opportunities outside of the app world.
Paid Apps
Pros: You're generating revenue. You can quantify sales immediately. You can still consider upgrade options, which will seem like less of a stretch to customers who have already paid some fee for service.
Cons: Getting potential customers over the initial hurdle of paying for the app. When virtually most apps downloaded today are free apps, it's a tough sell to get someone to pay upfront without any sort of test-drive.
3. Make sure app store optimization (ASO) best practices have been executed.
Similar to following search engine optimization best practices for your website, app store optimization (ASO) is essential to being found in app store searches. Identifying keywords is the most important step. You must optimize your app name and description with often searched terms by your target audience.
While identifying the source of a download isn't exact science, it's estimated that 61% of consumers find apps through the app store search. Also, remember there is more than one app store (think Apple App Store, Google Play Store and Windows Store) and thus you need an app built and optimized for each platform you want a presence in. Finally, you must continually monitor your keywords and make updates when needed. There's a lot more competition for general phrases and getting lost in a million other apps won't help.