Developing a powerful website is an essential part of modern business. Depending on your prior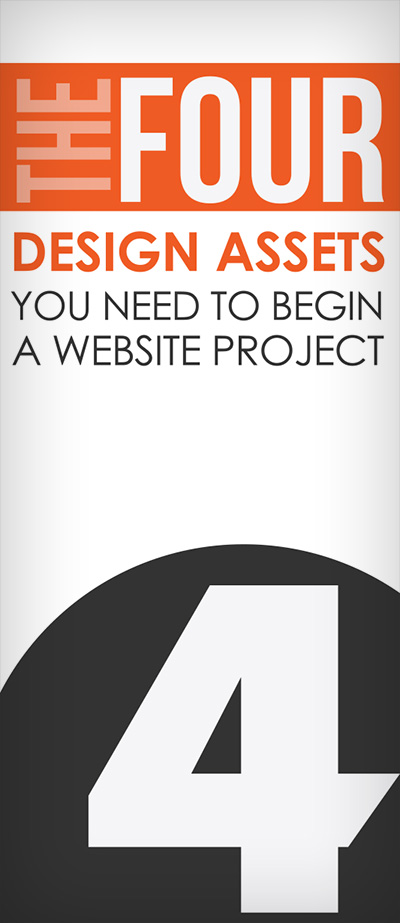 experiences, you are either eager to start, dreading the process or both – and trust us, we understand. There are a lot of unknowns at this point, including how you want it to look, how to your customers want it to work and how it will get completed. The beginning stages of a website project should be exciting for you because, after all, this is the new digital facade for your web presence.
We've outlined four assets for you to review and prepare now to ensure the beginning of your project is an adventure of excitement and gratification instead of a digital pit of despair.
1. The cornerstone of your whole world – the logo
You might be thinking, "I've got three GIFs of it right here on my desktop. What's next?" While any version of your logo is a great start, the best file format to have for the web is an EPS (Encapsulated Post Script) file. An EPS file is what is referred to as a "vector" file, which is better than "pixel-based" files for displaying logos. Why?
Common image files are made of up of pixels - think of a picture made from a wall of millions of Lego blocks that can be one of millions of colors. It's lots of little color squares. This is the image type of about 99% of images on the web and are commonly in the form of GIFs, JPEGs and PNGs. Because the image is made up of blocks, zooming in makes the blocks larger, which makes the image look blurry or "pixelated."
A vector graphic is different because it is created using thousands of mathematical equations that constantly calculate where lines in the image should appear. That means that when you zoom in on a vector, the image calculates the shapes allowing the image to remain pristine, where the pixel-based image would start to get grainy. For this reason, we need a vector version of your logo so when the fluid layout of your responsive site shifts and the logo changes size on the screen, it never gets blurry.
2. An extension of the logo – your color palette
Most logos are made up of one to three colors. These colors likely make up your brand's primary color palette. Since your website is typically a direct representation of your company, we need to utilize both your primary color palette and an expanded color selection to fuel the creative pronunciation of your content. The expanded color selection is an additional group of three or four colors that are used conservatively in company materials to accommodate the primary colors. These secondary colors can really amp up your presence to another level.
3. There is an abundance of beautifully done websites existing today – examples of other sites you like
No, we are not going to copy another company's design. We are simply trying to get a feel for what style aligns to your brand. It's likely most of the sites that appeal to you have nothing to do with your industry. You're influenced by many sources, like an online store where you bought a scarf for your pug – you may have appreciated the browsing experience, the detailed product imagery used or the colors used in the design. We are going to look at your examples and analyze what we feel is your draw to the sites. This could range from large aspects, such as the type or style of navigation, down to the nitty gritty aspects like the amount of space between lines of text in the content. These aspects are difficult to describe and imagine, thus having real examples to look at and evaluate is important. We promise – you are not cheating with this exercise.
4. Stock images can't cover all your bases – images of critical importance to your company
Stock images can look great on a website and are easy to implement, but they are only intended to provide visual appeal to a generic subject. There are places in your content where you will need personalized photos that are specific to your company only. Photos of your team, your building, your product(s) and your processes are all good examples of assets that are important enough to hire a qualified photographer for a day.
Giving thought to and preparing these four assets before starting, or at the very beginning of a project, will help move the design phase more efficiently and provide a better outcome in the end. If you are not able to procure all of these elements though, our professional graphic designers can help produce or acquire needed materials. Our experts will guide you through the design process to help you achieve your digital goals.
Want to share this with your team as you plan your next web project?