Get a jump start on your holiday shopping. The Spindustry team loves giving and receiving great tech gifts. Just in time for your Black Friday and Cyber Monday shopping, we've got a list of the best of the best. Over the next week, we'll share a tech gift for someone special on your list.
Gift #1: For the young sleuth: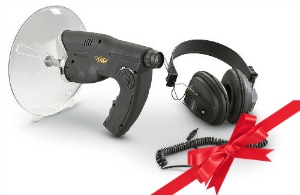 The Hausbell Science Bionic Ear is a must-have for young sleuths. This electronic listening device's sensitive microphone picks up quiet sounds up to 300 feet away and transmits them through headphones.
Watch for 7 more days of tech gift tips!