In our previous post about Digital Marketing Metrics, we outlined why you should monitor visit rate and conversion rate, as well as cost per visit and cost per conversion. In this post, we will outline how using URL tags on your digital marketing efforts can help you connect those metrics to better optimize your ad spend.
Standard Metrics
When an ad is launched through the ad server, these are typical metrics you get back automatically:
Impressions
Clicks
CTR
Frequency
This is a one-sided view of how the ad is doing based on how it is being served. These metrics are necessary to ensure proper placement and ad targeting.
When a person visits a website, you get these metrics from an analytics tool automatically:
Visits
Visitors
Referral
Time Spent
This is another one-sided view of how the website is being experienced by the visitor. These metrics are necessary to ensure proper site usability and traction.
However, with proper tagging you can follow the visitor from the ad to the website, and determine how the ad is performing based on the type of person it is sending to the website.
URL Tag Metrics
When an ad is served to someone, that ad contains the URL of your website.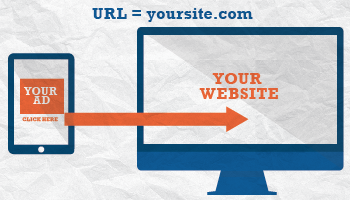 When the visitor lands on the website, the analytics tool will only pick up the browser information, which can be the referral – the site the ad was shown on – or as a direct visit, which means it looks as though the person typed the URL into their web browser.
When you add tags to the URL, the website analytics tool can pick up information about the visitor from each particular ad.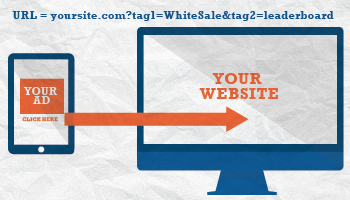 With the tags in place, you can connect the ad server metrics around the White Sale leaderboard ad to how those visitors interacted with your site. For example:
The ad server reports 1,000 impressions and 100 clicks on the White Sale leaderboard ad.
The website analytics tool reports 20 visits and an average of 00:00:10 spent on the site.
By connecting these metrics, you learn that the White Sale leaderboard ad has a high clickthrough rate of 10%, but only 20% of those clicks are turning into visits on the website. And those 20 visitors are leaving the site very quickly.
This connected data tells you the White Sale leaderboard ad is getting clicked accidentally, and of the few dedicated clicks, the visitor is not happy with the website page on which they land. Now you can try optimizing for another ad size or format, or try a couple landing page tests to improve the overall visitor experience.
Summary
URL tags are one of many different tagging options you should be using for all digital marketing efforts. In the future we will discuss conversion tags and event tags, but until then make sure to review Digital Marketing Metrics.
Or, contact us to help map out the tags you need for better reporting.