Enjoy an occasional series of posts about Spindustry as we celebrate our 20th anniversary in 2016.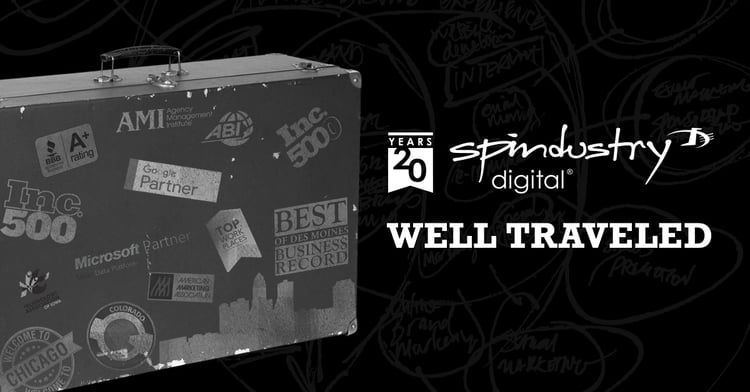 When Spindustry opened its doors in 1996, a handful of employees focused on database development using Access Database technology. Fast-forward 20 years and we've seen such vast changes in technology languages, the internet, business processes and hand-held technology that we never could have imagined – and that have influenced the growth of our company.

Our understanding of technology and business is how we solve problems. At the core of each website developer, designer, account manager, marketer and strategist is a business analyst. We figure out the way to solve the challenge first and then use the tools at our disposal to implement the solution. That's how a technology company stays in business successfully for 20 years.

We're also careful to not jump on all the new-tech bandwagons. The latest and greatest Internet fad may result in overnight success but long-term failure. Our co-founders, Michael Bird and Stephen Fry, always have a pulse on the latest technology, but ultimately the biggest driver of success has been looking for and adapting to the seismic shifts in technology. This includes the full-integration of the Internet into everyday life, the saturation of social media channel development and the advent of the smartphone.

"When Spindustry started, the Internet was new to the masses and having a website was a big new opportunity and a big stress for organizations. They didn't know if this was a fad or a worthwhile investment, let alone the flagship of their marketing focus. Ultimately, organizations began to understand the importance of a company website. Just as the adoption rate started to rise, social media became a thing. We had to have similar conversations again about technology, this time about how much to share with your customers and what level of control you really have over your brand," said Bird.

"The advent of mobile took the fire of social mobile and just added gas to it, helping social become a key part of everyday life. It accelerated the concern of a bad customer experience on your website because now you were not just disappointing this one person, but all of their friends who would hear about it via social," he continued.

It's not just how the Internet is used that has changed over 20 years. The technology used to create websites has changed too. Our business has evolved with Microsoft technologies. From those first days using Access as the database, we moved on to utilizing ASP and ASP.NET development languages and, more recently, SharePoint to build websites, e-commerce solutions, intranets, extranets and portals to meet the needs of businesses across many industries. There are many benefits to using these current Microsoft technologies, which is why we're experts in them – the built-in efficiencies and security features allow us to focus on solving the business problem first.

"New languages and technologies will appear all the time. If you are not careful you can get consumed with chasing the next one instead of getting anything done. Our strategy has been to pick a well-respected partner in Microsoft and utilize their tools until such time that their tools could not solve the business problems we need to solve. Thankfully, that has not happened. While we have other partners and other tools, we focus on one core set of technologies and knowing them well. We started in the Visual Basic and Access Database platforms to solve business problems on the desktop. We evolved to the Internet as a platform using Microsoft's ASP language. As the robust requirements of e-commerce and other challenges emerged with companies putting their business online, Microsoft responded with an evolution of their web language in the .NET Framework. This framework continues its successful run through multiple versions," Bird noted.

"We've just about come full circle in finding a new solution in SharePoint. It brings the best aspects of Access, the speed of the tool, and .NET, the power of the framework, to produce online records management and team solution portals that are operating in some of the world's largest organizations. Essentially, we have evolved with one partner's tools so that we stay focused but also not stagnant. We know these tools very well instead of knowing multiple tools 'a little.' And we continue to watch the landscape to see what is next," said Bird.

What's on that landscape has yet to be defined, but regardless of what turns out to be the next seismic shift in technology, Spindustry will be there helping customers use technology to solve business challenges. If you'd like to talk about your business challenges, let's grab a cup of joe and work on solving them.