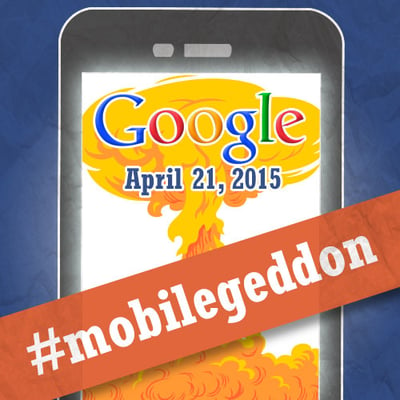 On April 21, Google will begin rolling out a big algorithm change that will decrease your site's ranking if it's not compatible with mobile devices. Is your site's mobile experience ready, or will your search rankings decrease?

The reason behind this change makes sense: Google wants to provide the best possible experience when people search. Research shows that people are more likely to buy from a mobile-friendly site and less likely to immediately leave the site. Past algorithm changes have focused on ensuring the content on the search engine results page is the best available – this algorithm change focuses on making sure the site can be used easily via mobile devices.

Will this affect my site?
You have a few ways to check if Google considers your site to be mobile friendly:
To get the most accurate and detailed information, log into your Google Webmasters account if you (or your digital vendor) have your site set up already.
If your site isn't set up in Google Webmasters, you can do that here. Google provides several ways you can verify that you're the owner of your site, and it walks you through that setup process.
Google has a mobile usability test to verify if your site is mobile friendly. Simply enter your URL to have Google check.
When does this change happen?
Although social media has been abuzz about #mobilegeddon for a while now, Google's algorithm change will begin rolling out April 21. The process to completely roll out across the world will take up to a week. We recommend always monitoring your search engine rankings, but it will be especially important over the next few weeks.
Why does Google say my site isn't mobile-friendly when I know it is?
Google recognizes three ways to configure mobile sites:
Responsive web design — Same URL and same HTML code served, but displays the content different depending on which device is used — recommended by Google
Dynamic serving — Same URL regardless of device, but different HTML code served, depending on which device is used
Separate URLs — Different URLs for desktop and mobile sites, different HTML code served depending on which site is used (which, in turn, depends on which device is used)
All three of these are fine, but Google has specific guidelines about how to use each one. You must follow these guidelines to clearly communicate with Google about how your mobile experience functions, so you get SEO credit for your mobile-friendly site.
What if I'm not sure what to do next?
Talk to your website vendor. They can confirm if your site is set up properly, or tell you what needs to be done to make sure your site maintains its high ranking.
No website vendor? Want a second opinion? Sign up for a free mobile website assessment from Spindustry Digital.