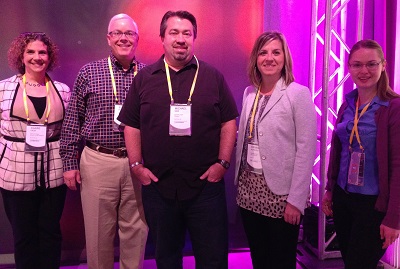 The Spindustry Digital team attended HubSpot's Inbound14 conference, focused on inbound marketing. The annual conference gives marketers insight into new trends, tips to increase your marketing team's efficiency and effectiveness and opportunity to learn and be inspired by other inbound marketers.
If you missed it, here are the major themes that were covered at Inbound14.
Inbound marketing is CONNECTED
Several speakers emphasized the vital connection between Marketing and Sales teams. The Marketing team is typically responsible for getting leads and the Sales team follows up on hot leads and closes the deal. But what about the steps in the middle for leads that aren't ready for a sales call yet? That's where lead nurturing comes in. A HubSpot representative likened the lead nurturing process to a knot that ties Marketing and Sales together – without lead nurturing, the process will come undone.
HubSpot also underscored the importance of connecting with customers and prospects through its announcement of a new app you can add to your account, to get real-time feedback from customers, such as "How helpful was this article?"
Inbound marketing is RESPONSIVE
Last year, HubSpot introduced responsive design, so web pages look good whether they're viewed on a desktop computer, a tablet, a phone, or anything in between. The latest feature introduced this year is that you can personalize content based on the user's device, so you can display a shorter version on a phone and a more robust version on a desktop. This allows you to consider how your audience uses your website or blog in various situations – what do they need when doing in-depth research at their desktop computer vs. what information do they want to get on-the-go via their phone.
Inbound marketing is ORGANIZED
For inbound marketing, being organized is the name of the game. You need to create a lot of valuable content to feed your marketing machine, so it's vital to plan ahead, verify everyone on the team knows their deadlines and ensure related pieces of content are working together.
The new calendar functionality in HubSpot replaces the standard editorial calendar, which many manage in Trello, Excel or other software. By using HubSpot's calendar, you can capitalize on the shortcuts and links to make your content creation process faster.
HubSpot also introduced a Campaign Wizard, which helps you see all of the content related to a particular campaign. This feature allows you to see related assets, more easily draw connections between them, and identify gaps in content that you need to fill.
Inbound marketing is QUANTIFIABLE
Unlike the days when you placed an ad in the newspaper and hope your sales numbers rose, inbound marketing allows you to track specific, quantifiable goals to see which elements of your marketing are working well and which ones need to be tweaked. This specific data tracking is a vital component of your marketing process – test, analyze, modify, repeat. Use the data available to you – website stats from Google Analytics or HubSpot, response information from your e-blast provider, social media stats, etc. to make the best decisions for your business.
Inbound marketing is INTEGRATED
All of this data is great, but the more integrated it is, the less time you have to spend connecting the dots – and the more time you can spend working on your next innovative inbound marketing campaign. One of our favorite aspects of HubSpot is that it combines a lot of data and functions in one place. The creators at HubSpot are rolling out two new features to help with data integration.
You've been able to integrate popular CRMs with HubSpot (Salesforce, SugarCRM, etc.) for a while now, but HubSpot just rolled out their own CRM to customers. This means easy integration, and it means better cyclical communication between the Marketing team and the Sales team. It also allows you to provide tailored information to prospective clients during the lead nurturing process.
HubSpot also rolled out revenue reporting to HubSpot Enterprise customers. This allows you to easily correlate your marketing efforts with sales dollars and create attribution reports.
Inbound marketing is CONTEXTUAL
The speakers at Inbound14 reiterated what HubSpot has been preaching from the beginning: Context is King. Even the best information gets lost when it's out of context. Make sure your content is relevant for the situation: the right audience, the right timing, the right platform, the right message. Put yourself in the shoes of your prospect or customer, and provide your killer content in the right context.
Feel like you missed out on HubSpot's Inbound Conference? Sign up for our email newsletter to keep up on the latest inbound marketing news and events – and save the date for Inbound15 in Boston, September 8-11, 2015.