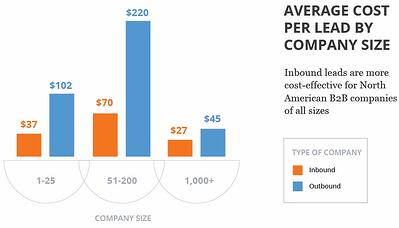 You've been reading about inbound marketing. You know exactly what it is. (No? Download our white paper.) You know why it's important and how it can help you grow your business. You know that inbound leads are cost-effective: B2B companies can get an inbound lead for between 40-68% less than an outbound lead.
But where should you start? Kick off your inbound marketing campaign in six steps:
1. Know your audience
Start by identifying your personas – fictional, generalized characters that represent your customers. What does "Joe CEO" care about? What does his day look like? What drives his decisions? It's ideal to build personas by interviewing or surveying actual customers, but you can likely create a solid first draft by what you know about your customers. Ask others in your office for input – the sales team, customer service reps and account managers will have valuable input as you build your personas. Use a persona to help make decisions about your marketing – how can you provide value to that customer?
2. Identify your SMART goals
Maximize the impact of your inbound marketing by focusing on the right things. Follow a top-down approach. Start by understanding your company's goals for next year, then translate those to your marketing department's goals (which should support the company's goals), and finally, translate those into SMART goals for your inbound marketing campaign.
A SMART goal is:
S = Specific: be concise and explain precisely what you want to do
M = Measurable: select a number, so you can identify when you've met the goal
A = Attainable: base your measurable number on benchmarks and realistic calculations, so you're working toward a goal you can actually achieve
R = Relevant: make sure your efforts matter, by using the top-down approach described above
T = Time-Bound: give yourself a deadline
Want to learn more about SMART Goals? Download a template that walks you through creating SMART goals for your inbound marketing.
3. Use goals & personas to develop a campaign
Combine your personas and SMART goals to help develop a campaign. (You can even create SMART goals specifically for your campaign!)
The marketing tactics you choose will vary based on who you are targeting and what action you want them to take. Are you trying to get them to visit your site, or do you want them to become a lead? Are you talking to a decision-maker or an influencer?
Your goal will help you choose which marketing tactics should get your focus. For example:
If you want to attract visitors to your website, write blog posts that use carefully-researched keywords and promote your posts via links on your social media channels.
If you want to convert current website visitors into leads, create landing pages with forms where people can trade contact information for an educational offer you provide, and place strong call-to-action buttons on your website to get people to these forms.
4. Repurpose content
You work hard to make content – now make it work for you. Use the content you create in multiple areas – for example, you might write a blog post, then share the post via social channels, and send a link to your email list.
5. Know when to automate and when to give it a personal touch
Marketing automation tools, such as HubSpot, can save you a lot of time. Once someone fills out a form on your site, you can slowly and deliberately send them more information to educate them on your industry, your product, or a process. You become an educational resource, instead of a pushy sales rep.
However, sometimes you just need that personal touch. Determine the point in your campaign when a sales rep should call a lead directly. Make sure the lead has indicated enough interest to warrant a phone call, to avoid irritating your lead and wasting your sales rep's time.
6. Measure, assess, adjust and try it again
You'd like to get your marketing campaign 100% right the first time, but that's typically not feasible.. Document what you're doing, measure the results and assess where things are working and where they're not. Compare your results with your SMART goals. Develop a plan to change what isn't working for you – and be sure to measure, test and assess that as well.
Start SMART. Download a template that will help you create SMART goals for your inbound marketing.