Search engine optimization (SEO) can be confusing. Even the technical phrases can make your head spin and leave you wondering what you're missing. Here's the rundown of commonly used SEO phrases and definitions, so you sound like an SEO rock star in your next meeting.
Search Engine Results Page (SERP)
When you type something into Google, Bing, Yahoo or another search engine and click Search, the list you see is called the Search Engine Results Page. It is abbreviated as "SERP." This list includes a summary of the website pages, plus links to those pages. Your site can appear on the Search Engine Results Page via paid ads or unpaid listings.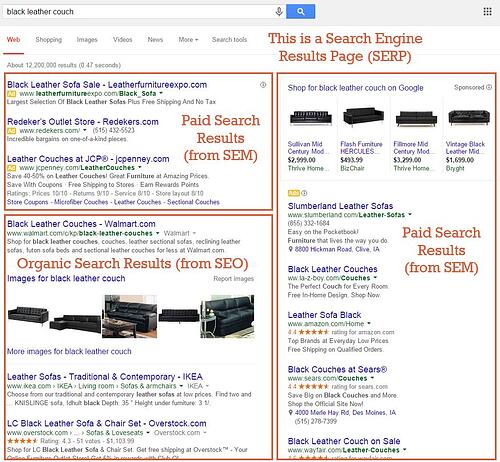 Search Engine Marketing (SEM)
This is the process of getting your site on the Search Engine Results Page by paying for ads. The paid ads usually appear at the top, right side and occasionally the bottom of the Search Engine Results Page, and they sometimes appear on a colored background. The order of the ads is determined by a bidding process.
Search Engine Optimization (SEO)
This is the process of getting your site on the Search Engine Results Page by applying best practices to your website and continually optimizing your website. You don't pay for ads, but you will need to invest your team's time into doing it correctly.
Organic Search Engine Ranking
The unpaid listings on the Search Engine Results Page are a result of your SEO efforts. The order of these unpaid listings is called your Organic Search Engine Ranking: First listing is #1, second listing is #2, etc. Having a #1 Organic Ranking is ideal because many people will see you, but you didn't have to pay for an ad. Most search engines include 10 listings per page. People are not likely to click past the first page of listings, so it's important that your website has an organic ranking of #10 or better.
Keyword Research
This research is conducted before you write content or tags for your site. Determine a list of about 10 keywords you want to target for SEO. Keep in mind that this list is probably more of a key-phrase list — also known as a long-tail keyword list — because it's very difficult to rank well for a keyword that only contains one word. It's also very difficult to get the right people to your site when optimizing for a generic one-word keyword. If you sell a black leather couch, the person who searches for "buy black leather couch" is more likely to be the right customer than the person who simply searches for "couch." The keywords on your targeted list should be very relevant to your business, they should have low enough competition with other sites that your website has a good chance to rank well, and the number of people searching for that keyword should be high enough to make it worth your effort. If your initial list of keywords doesn't fit that criteria, expand your list to phrases that are longer and more specific.
Title Tag
This appears as the top line of your website page's listing on the Search Engine Results Page. In some Internet browsers, it also appears at the top of the page or tab. Each page gets one title tag, and it should focus on the primary keyword of that page, such as the product or service described on the page. It's best if each page of your website gets a unique title tag.

Meta Description Tag
This generally appears as two or three lines of text on the Search Engine Results Page. If you follow the guidelines, this will likely be the Meta Description that you dictated for your page. However, if the search engine determines that the Meta Description you dictated is too long or not relevant, it may select other content from your on-page text to use instead. In short, follow the rules so you can have better control over the Meta Description.
Meta Keyword Tag
Although this was once an important part of SEO, the Meta Keyword Tag is no longer important. You can still use a Meta Keyword Tag if you like, but we recommend that you don't spend very much time on it. This tag is typically a list of relevant keywords.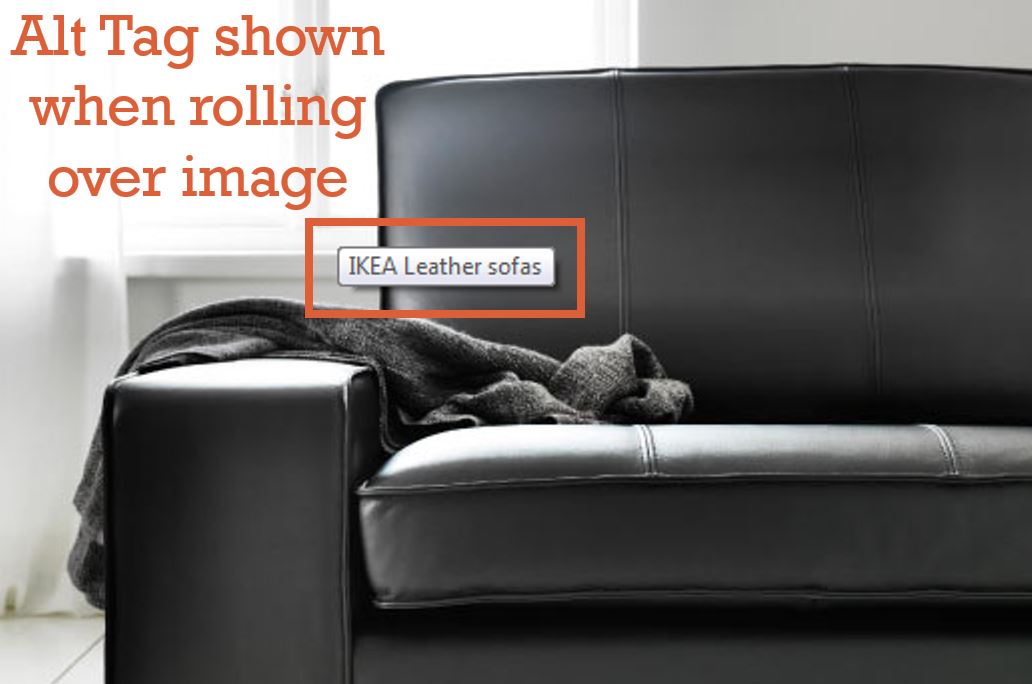 Alt Tags
These tags are a very brief text description of an image — essentially hidden captions for your images. In some browsers, you can see the Alt Tag text when you roll over an image. They're also helpful for ADA compliance, because screen readers for the visually impaired can gain information about your image, even if the image itself cannot be viewed. And how about SEO? Search engines read Alt Tags, so it's an additional way to convey the topic of your page, because your images will likely be related to your overall topic.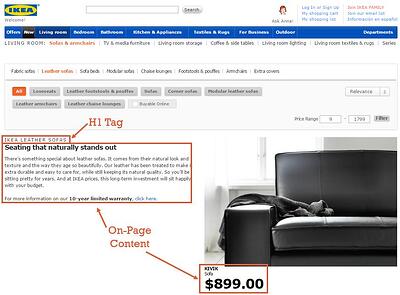 H1 Tags
These header tags are displayed on your website page. They list the main topic (or topics) of the page. They should be clear and concise, and they're often displayed in a slightly larger and bolder font — like you'd expect from a header. Pro tip: If you have sub-topics on the page, you can list those in H2 Tags.
On-Page Content
This is simply the main text on your page. It is also called the Body Content or Body Text. It may seem obvious, but don't overlook the On-Page Content. If you removed all the images (photos, logos, fancy image-based headers) from the page, does the text left on your page still include keywords?
Keyword Density
This percentage shows how often you use the keyword on the page. Start with the number of times your keyword appears on the page, then divide that by the total number of words on the page. A good rule is to write the On-Page Content for your users, and then review the text to make sure you've used your primary keyword naturally a couple of times. If you mentioned it in every sentence, reword to omit most instances, to make sure it doesn't look like a spam page.
Now that your SEO vocabulary is up to speed, download this list of 17 SEO Tips to Leave Behind in 2015.