Social media has quickly become a customer service hub for many businesses. Questions, requests,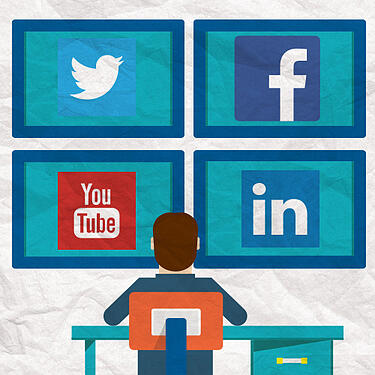 complaints and all-out rants will be expressed in the social realm. The frequency, pace and impact on your business is dictated by the customer service plan – or lack thereof – you have in place.
Traditional customer service puts all the convenience on the business. Customers have to stand in line at the customer service counter and wait to pay a bill, return a product, file a complaint or just ask a question. Automated phone systems require a customer to sit on hold without a clear expectation of when they will talk with someone.
Digital has started to shift that paradigm, giving more convenience to customers and placing more expectations on businesses. Customers can pay bills online – not requiring them to drive to the store, purchase a stamp or write a check. Customers can return products from the comfort of their home by printing a return label and mailing back the item. Customers demand more control of their experience with your business and if you can't or won't meet their needs, they won't be your customer for long.
So as more customers start communicating with you online, how do you provide good customer service on your social channels? Here are four tips to get started.
1. Appropriately staff your social channels.
A customer service representative should monitor your social channels. It's similar to staffing a customer service call center – you need a professional who understands your business, products, services, customers and policies. Have a plan in place for monitoring and handling follow up 24/7, especially if you start to see the frequency of comments increasing to a point that necessitates constant monitoring.
2. Respond to customers quickly.
Customers expect you to respond to their questions, comments and complaints quickly - as in 60 minutes or less. While it's hard to plan for the unexpected, you can monitor trends to see if there's a particular time or situation where more comments are posted. By noticing these trends, you can be more prepared for these moments and ready to respond.
3. Don't avoid negative comments.
Not responding to a negative comment doesn't magically get rid of it. What should you do? Respond professionally, apologize for the inconvenience and ask the person to contact you offline. While it is frustrating to see negative comments – and sometimes untrue or unfair ones – you can demonstrate your stellar customer service to other customers if you take the time to respond. Asking to move the conversation offline will allow you to address the issue one-on-one. You never know, that person may post an update about the great experience they had with your customer service.
4. Be proactive.
Your social channels are more than response tools. If customers typically have the same question about your return policy, continually post content about that policy. You may connect a customer with this information at the moment they need it – thus handling their question before they can even ask.
JetBlue has taken their customer service on Twitter seriously. Their "Customer Commitment" team monitors and responds to thousands of tweets mentioning JetBlue. Read this case study which describes how they handle customer complaints, how they don't respond to every single tweet, how they work in conjunction with several airports to provide stellar customer service and how they staff their team.
Do you want to better anticipate what customers will say to you on social channels? Ensure that your business has clearly defined buyer personas. With personas, your customer service team can prepare for common customer questions, challenges and needs. Your team will be able to respond more quickly and efficiently.