The publishing of a new website is not the end of the project; it's a milestone on a much larger journey for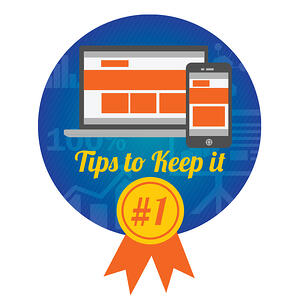 this important marketing asset. Gone are the days of stale, static public websites. A website is meant to serve as a living, breathing representation of your business. It's that online salesperson, marketer and cheerleader – one who works 24 hours a day and seven days a week and doesn't ask for a vacation. That means you have to constantly update the site to make sure it's working to its full potential. Here are four tips to help you make the most of your newly published website.
1. Initiate a plan to keep content fresh. You put a lot of hard work into the website while it was being developed (we know this and shared with it you in our "A Realistic Picture of Web Development Projects" post). Don't waste that effort by letting information get out of date. Develop a content plan and keep it updated. We recommend posting new content (this includes text, images and video) a couple times a month.
Stuck on what to post? Here are some ideas: recent news, new hires, new product features, testimonials, other product uses, additional maintenance and care tips, pictures of facility updates, or pictures from recent volunteering events. A blog is another fantastic way to keep content fresh. Search engines look for highly targeted content that is consistently updated. Customers and potential new ones will see it as a valuable source of information. Our team has the experience and expertise to develop a blog strategy, execute the content, optimize it for search engines and monitor the traffic.
2. Review analytics. The data helps you make informed decisions about the website and your marketing initiatives. At minimum, you should be reviewing analytics monthly.
Compare stats over similar time periods to look for trends. Notice that the majority of your orders come in after 6 p.m.? And that the average order is $38? This information might influence you to do a flash sale from 5-7 p.m. for free shipping on orders over $50 to try and drive up the average order amount.
Reading, interpreting and strategizing on what to do with the data can be tough! That's why we offer to our clients the Marketing Assurance Program. We'll dive into the analytics, look at the trends, make comparisons and provide tactical recommendations to help you meet your goals.
3. Keep a running list of ideas and enhancements for the website. There's no doubt you'll want to make changes to the website after it publishes. Changing business needs, customer demand and new technology are all important reasons to update your site. Along the way you'll see other areas to improve and new ideas to add. By keeping a running list and working on changes in phases, you'll maximize your budget and resources.
Make sure to compare your list of ideas with the analytics data. You may be surprised to find out a page you want to redo is performing at an exceptionally high conversion rate. You may want to reevaluate your strategy in this situation before making any changes.
4. Integrate your website with your other digital efforts. All of your digital assets live in the same ecosystem. They need to work in cooperation with each other to get the most value out of each of them.
Define the purpose and the goal of each asset. Then decide how that feeds into the next asset. If Facebook will serve as the space where you promote care and maintenance tips for your products, should you establish a Facebook feed onto your product pages and your customer service page on the website? Again, use the analytics to tell you about the demographics of people accessing your digital assets and study how they're using them. This will help you tweak the information and provide the best possible experience to your visitors.
Interested in discussing website post-launch strategy?
Just getting ready to start a new website project? Read our previous posts – "Five Things to Do Before Starting a New Website Project" and "A Realistic Picture of Web Development Projects."