When was the last time you checked your cart abandonment rate in Google Analytics? If it's near the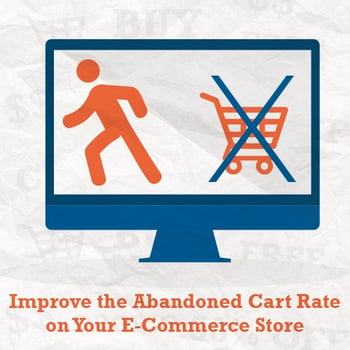 current average of 59% to 69%, there's room for improvement in your online shopping experience.
1. State shipping fees as early and often as possible.
If you offer free shipping or a small flat fee on all purchases, make that a prominent visual on every website page. If free shipping is earned by spending a certain dollar amount, pop up a reminder of how much the customer has left to spend in order to earn free shipping. If shipping is based on total weight of products purchased or shipping destination, give customers an easy way to look up expected shipping fees. Nothing will drive a customer to leave a website faster than getting to the last page of checkout and seeing a high shipping fee for the first time.
2. Pay and pick up in store.
If you simply can't offer free shipping and you have brick and mortar stores, offer to let the customer purchase the product online and have it ready for pick up at the customer service counter. This is a value-add service for customers who don't like casual shopping in the store, or live farther away and don't want to be disappointed if the product isn't available after driving there.
3. Offer free add-ons for online purchases.
People love free stuff. It doesn't have to break the bank either. Swag like stickers, buttons, pens, hats or gift wrapping may seal the deal. Another benefit? Free brand advertising.
4. Remind customers of the security and convenience of your online shopping experience.
Build a simple checkout process that utilizes the latest security standards. Then tell people about it on the website. Let them know the number of steps in the checkout process or how long it will take. This will give them assurance they have time to quickly and easily finish their purchase, especially if they're on a mobile device. Security reminders provide the confidence you're a legitimate business with a secure transition.
5. Monitor trends about abandoned carts.
Look at Google Analytics to spot trends about when or where consumers abandon their cart. Do the majority abandon at step 2 of 4? Evaluate the second page of your checkout process to determine if changes need to be made. Do the majority abandon when the total is under $50? Offer a discount for orders of $50 or more, to entice people to finish the sale.
Want to improve sales in your online store?
The functionality of the website, visual layout of the virtual store and marketing of your products have to work hand in hand. Ask the experts for help.
Check out a few examples of our e-commerce work: