Starting a new web development project for a public facing website can be daunting, especially if you're not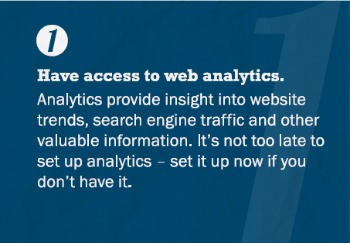 sure what to expect or know what assets you need. We have created a five-point checklist for you to plan and prepare for your next web project.
1. Have access to web analytics. Ensure that you have access to your Google Analytics page. Be sure you are capturing statistics regarding web traffic, search engine traffic and other valuable analytics information.
At Spindustry, we've seen clients who are dead certain that they want to get rid of a page from their current site, only for us to discover it's the most accessed page. Having the data at hand is powerful. What you may believe to be not valuable could be essential to a site visitor. A simple reformatting of the page or updating the functionality might be all that is needed.
If you don't have analytics set up currently on your site, there's still time and value in getting it added ASAP. Having even a month's worth of data is more valuable than nothing.
2. Establish goals for the new website. Why are you developing or redesigning your site? What benefit do you expect by building one now? Do you expect it to deliver information to customers? Increase inquires? Rank higher in the search engines? Generate sales? Who are our customers and how do they use this site? What keywords are they searching for?
We will help you evaluate and finalize your goals during our engagement, but it's important that your stakeholders have discussed and come to a general consensus on the purpose and goals of the site.
3. Create your needs vs. wants list. This is an important step that sometimes gets brushed aside. In a perfect world, you'd have the budget to develop everything on your wish list. In reality, you must prioritize "needs" before "wants."
Until the new site is live and being used by the public, you can't determine if all the needs of visitors are really being met. After launch, you can gather insights from analytics – and simply asking visitors – to determine what should be in the next phase of development.
4. Gather assets. A critical piece we often see missing at the start of the project is an asset library. Having pieces of content that describe your business and product offerings (think brochures, sales presentations and existing web copy) and an image library that include brand logos and product pictures is the first step. Other assets may include videos, social channels and other images used in marketing materials.
Make a quick spreadsheet that outlines asset pieces you have and the location of those assets, as well as a list of assets you don't have but know you need. If a lot of content still needs to be created for the new site, be sure to think about who will be accomplishing that task.
5. Think long-term. Ensure that you have a plan for managing the project within your team for the short-term, but also think ahead to how and who will manage the site after launch.
Think of your site launch as a fresh start. It's important to have discussed the post-launch plan with the internal team before you commit to the web development project. It's hard to imagine what it will be like a year from now. A new site needs time and attention to keep it fresh.
Need to review this list with your team? Download our handy tip sheet to prepare for your next web project.
After you prepare for a new website project, read our next posts in the web development series:
A Realistic Picture of Web Development Projects