Standardizing our development platform – to a .NET development environment – has several benefits, including the ability to build a more secure network based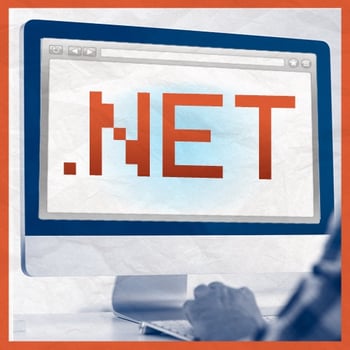 on an industry-trusted platform. The platform offers many features compared to other development platforms. Here are key benefits of implementing a .NET development environment.
Robust Development Environment
When developing for .NET, programmers utilize Visual Studio, which is a start-to-finish tool for development of all types of web, desktop and mobile applications. Many other development platforms do not have a standard development environment. While there are popular tools that could be utilized, there are very few industry standards.
Code Reliability
Before publish, .NET code is compiled into files called Dynamic Link Library – or .dll – which can be easily referenced and used in other projects that do not have to be web applications. Other development platforms are designed to be run as a website and the code cannot be used natively in a desktop or embedded application.
Speed
Because .NET code is compiled before it's published, it runs faster than a site with the same functionality but built in a different language. Several other languages are read on the fly, so every time a page is accessed, the code for the page must be interpreted and then executed, which adds overhead time.
Language Support
When developing in .NET, you can utilize several different programming languages at the same time, including C#, VB.NET and C++. Multiple programmers can work on the same project and bring different strengths from past experiences. With many other development languages, only that language that can be used, so each team member has to be well-versed in that one language.
Security
The .NET development platform comes with robust security controls. This means a feature like a secure and simple login for your website or application is readily available within the .NET platform. Other development platforms have applications and plugins you can use for added security, but aren't included by default.
Part of the success of any development platform is the team behind the work. Experience and education are key factors in coding strong-performing, secure websites. Many of our development team members have a 15+ year tenure with Spindustry Digital. Additionally, team members take continuing education courses to further strengthen skills. Having a strong network of assets allows our developers to collaborate, strategize and solve problems together. This is accentuated by focusing on one development environment instead of several.
If you'd like to talk about your website platform and see if your organization would benefit from our technical expertise, contact us.