Whether you're actively marketing to customers for the holidays or planning your strategy for the next year,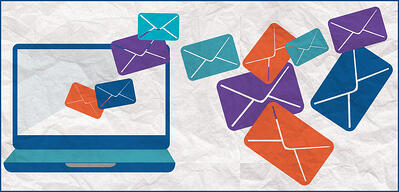 we've got five important email marketing tips to implement today.
1. Optimize for Mobile
As you probably already imagined, 66% of email opens are on mobile devices. The first priority to getting the most out of your email marketing campaigns is to ensure your emails are optimized for mobile devices. Ensure that the layout adapts to the size of the device and links are easy to tap.
2. Get the Timing Right
The time that you send an email matters. When is your target audience most receptive to receiving email? Ideally, you have historical data to know when your emails are most often opened. If you don't, research trends based on your industry and target audience.
The device used when opening the email also influences the time to send. Additionally, the purpose of the email will affect the outcome of when the email is opened, if a person clicks on anything and if they ultimately make a purchase.
3. Offer Incentive – Mobile Coupons
It's expected that one in four consumers will use a coupon from a mobile device in 2014. Send out offers via email that customers can redeem by showing the coupon on their mobile device while shopping in your store. Fumbling around to cut out a coupon, or even print one, is too cumbersome. Providing an incentive prompts people to open emails – and if they find the incentive valuable enough, it will persuade them to visit your store.
4. Remember the Call-to-Action
A coupon is a call-to-action, but there are other options besides a discount. Ask participants to fill out a survey, watch a video demo of new products, follow you on a social channel or read product reviews from other customers. Ultimately, each email should incite the customer to take some kind of action. This allows you to measure how receptive people were to your call-to-action. Depending on the action, it also drives further connection with your brand.
5. Send Receipts via Email
The marketing potential by emailing a receipt is huge. First, you have to capture the customer's email to be able to send the receipt, thus building your email list. Remember: your email list is one of your most important marketing assets.
Second, you can target future emails to customers based on past purchasing behavior. What's the next product that might interest them?
Third, you can continue marketing to the customer via the receipt. There are tons of opportunities here. Ask them to write a review of the product or share their customer experience. Give an update on rewards earned and remind them what they need to do to earn the next reward. Offer a future discount for filling out a survey. Provide a link to a video demo of the product(s) they purchased. The call-to-action on an email receipt is a lifeline of building an ongoing relationship with the customer.
Email marketing should be a priority in your 2015 marketing strategy. Email is also a critical piece to inbound marketing – the smarter way to get qualified leads. Download our 10 powerful inbound charts to find out the real impact of inbound marketing.