You would be hard-pressed to find someone who doesn't use technology to manage their finances. Paying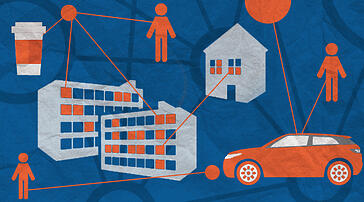 bills online, withdrawing money from an ATM and monitoring transactions from mobile bank accounts are common tech-related banking practices. The push to more safely pay for goods and services, post-Target security breach, is starting to get traction with Apple Pay. As more people stop paying with cash, the financial services industry is poised to take personalization to the next level.
Personalized, segmented and targeted are all marketing buzzwords. They all mean presenting highly-relevant information to a person. Relevancy comes from the self-selected preferences a person indicates when you ask, as well as the natural habits and actions tracked digitally about that person. If the majority of financial transactions are happening digitally, financial institutions should have abundant information about customers.
Aligning transactional information with demographic information, like age, lifestyle, education, profession and hobbies, gives a financial company the power to put the right products directly in front of the consumer. Take for example a 35-year-old father who purchases a beverage five mornings a week at Starbucks. If he does not have an educational fund set up for his children, his bank might send an article on how contributing $3 a day to this type of fund can help cover the majority of college expenses – all for less than the cost of a daily latte. Sending this same article to a 23-year-old non-parent does not make sense, and may cause that person to unsubscribe from future communication.
Timely communication is also important with personalized marketing. If someone has recently purchased a home and has a new mortgage, sending tips for managing a monthly budget and still paying the bills on time is sensible. It's about being in the right place at the right time for customers, when they're most receptive to hearing from you.
With the extensive amount of information financial services companies have about their customers, it's essential to adopt a comprehensive personalized marketing strategy. Missing this opportunity means customers will start seeking information elsewhere and probably won't continue being your customer for long.
Did you need help capturing information from customers, segmenting that data or determing the right set of digital tools to implement personalized marketing? Our business strategists, technical developers and marketing experts can help.
You may also like these blog posts:
Email Marketing Pain Points - and How to Get Around Them
Five Email Marketing Tips for Reaching Customers on the Go