If your company has a Facebook Page and you've been analyzing your January stats, it's likely you noticed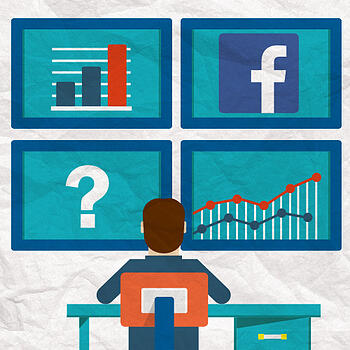 a drop in impressions, which ultimately leads to a drop in likes, comments and shares. As you might have guessed, Facebook made another change to their always-evolving algorithm. Here's a recap of what changed and what you should do next.
Your Business Page Posts are Not Appearing as Often in News Feeds
As of January 2015, Facebook altered their algorithm, affecting what content is served in News Feeds. Facebook surveyed users, asking them what type of content they want to see and the results were not surprising: people want to see more stories from friends and less promotional content from Pages. Remember that a Page is the format in which a company sets up a Facebook presence. Spindustry Digital, for example, has a Facebook Page.
Facebook noted, "All of this means that Pages that post promotional creative should expect their organic distribution to fall significantly over time." Facebook is just as quick to point out that their advertising options give companies the ability to target specific audiences with a key message. This is true – and it is a very effective option. However, this also serves as a stark reminder that Facebook is now a publicly traded company with investors demanding ROI.
The days of riding this social channel for free – and gaining significant value from it – are limited.
Counterintuitive to Inbound
Developing informative, compelling promotional content to draw in the right audience is a foundational piece of inbound marketing. Facebook's changes seem counterintuitive to getting the right content to the right people. It does claim that "by making News Feed more engaging for people – with Page post creative that is more relevant to them – we're also creating a better platform for businesses to reach their customers and find new ones." How is that achieved when your content isn't earning the same reach it did previously? And more importantly, how does Facebook plan to get that content in front of the right people?
Facebook uses fans' profile information to serve relevant content. What type of information do people provide on their Facebook profile? It's typically very personal – which makes B2C relationship building still plausible. It also means B2B companies will struggle more to connect with the right audience.
What Should You Do with Your Facebook Page?
1. Do not stop using Facebook.
If you currently have a Facebook Page set up, don't give up on it by stopping your posting schedule or turning off the page. Remember, you have a current fan base to serve. Even if your content is served to a smaller group of your fans, it's still important to communicate with them. A post might inspire them to do more business with you, or at minimum, keep your brand top of mind.
Also, remember that a Facebook Page is still a free piece of digital collateral. There are people, fans and non-fans alike, who seek out a Facebook Page to find a phone number, hours of operation, website link and other useful information.
2. Evaluate Facebook advertising.
You're going to have to pay to play. Unlike other mediums where advertising stopped being valuable long ago, Facebook ads are currently an effective way to reach your target audience. We've helped several clients meet an objective with a Facebook ad for significantly less cost than newspaper and print ads, as well as untargeted digital ads.
If you want Facebook to produce results to meet your company's goals, you will have to consider advertising. We have three tips to run successful Facebook ad campaigns.
3. Evaluate your social presence.
Now is a great time to take a step back and analyze your current social channels' performance with your goals. Facebook has always been the "no-brainer" because of its broad audience. However, if the roadblocks are significant enough, it may not be the best social platform for your business. You may want to direct more of your efforts to Twitter, YouTube and blogging. Don't make a decision in haste though; spend the time evaluating the effectiveness of each tool and develop a strategy that fits your business goals.
When to Contact the Experts
It can be overwhelming to manage an entire digital ecosystem – executing the research, developing a game plan, writing content, distributing across multiple channels, engaging with customers, analyzing the data and making necessary adjustments. Call in the experts from Spindustry Digital to help you - our team executes campaigns that get results. If you'd like help evaluating your Facebook Page, social presence and digital ecosystem, reserve a time for your free digital assessment.