Every brand has its own traits – the details that make it unique and attract a target audience to its products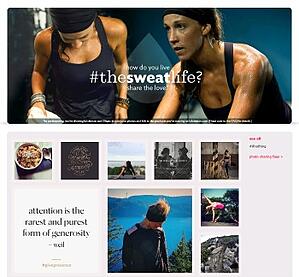 and services. Take for instance Tiffany & Co. compared to Kay Jewelers. Both offer similar products, but the ambience of the store, the product packaging, the employees, the marketing tactics and the target audience are quite different. For many outdoor product and apparel brands, there are common traits we see displayed across their digital presence.
1. Athletes & Ambassadors
Many lifestyle brands utilize athletes or product ambassadors to bring a real face to the brand. Companies like Marmot and Backcountry bring the human-spirit forward with sections of their website dedicated to people. Marmot's "Athletes" section showcases sponsored athletes with a biography, photos and favorite products. There's an aspirational feeling for a website visitor to think, if that's their favorite product and I wear it, I'm just as cool as a pro athlete.
Backcountry has a "shop with a gearhead" feature that allows site visitors to click on their desired sport and see a narrowed list of ambassadors who are experts in that area. Each ambassador has a profile page with a bio, videos, photos and product reviews. Visitors can select an ambassador to receive personalized shopping assistance and advice.
Ultimately these brands connect people with other people to share stories about the products and lifestyle. It's the ultimate community experience.
2. Hashtag Campaigns
Most lifestyle brands use a series of hashtag campaigns to connect with the target audience. Saucony does this through their "Find Your Strong Project," which is an online photo album of brand advocates sharing their running stories. Every few weeks they post a challenge and participants must use a specific campaign hashtag for images they upload to Twitter or Instagram. Chosen photos appear in the online photo album. There's a sense of connection and appreciation for the participants – they are working toward sharing a common experience.
The same is true for Lululemon. Their online gallery of #thesweatlife images is a mix of people actively holding yoga poses, quotes and mood-setting outdoor shots. The brand goes far beyond the clothes it sells – it extends deep into the mindset of its target audience's values.
A hashtag campaign creates a sense of sharing a personal story and belonging to a group. Like many digital efforts, if your customers are already posting photos anyway, guide their efforts toward your brand.
3. Mission Driven
Many of these lifestyle brands wouldn't exist without a deeper purpose at their core. Lifestyle companies often have a link to their mission or philosophy, typically on the same level as product navigation. There's a reason beyond profit these companies exist and they want visitors to know how their organization improves the lives of others.
Prana's "Life" section delves into topics about the Earth, inspiration to make a difference and global sustainability. They outline three priorities – use less conventional cotton and rayon, use more bluesign certified products and invest in the growth of Fair Trade Certified products. Of course selling a product is essential but on the terms defined by the company. People who share the same core values can build a community to achieve their collective mission.
If your company is mission driven beyond the bottom line, expressing the guiding principles in which you operate can help you connect with like-minded people, thus building up your community and advocates.
How are your portraying your lifestyle brand online? These current common traits are ways for you to share more about your company and connect with your target audience and new people.
Need help sharing your mission and building connection points? Contact Spindustry Digital.