The New Year is right around the corner and we're here with a fresh perspective on what to expect in digital marketing in 2015. Here are the top three trends we expect to see.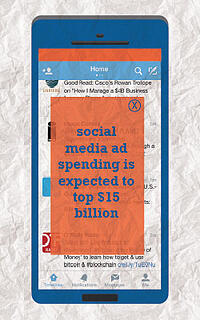 1. Increase in social mobile ad spending
Twitter has been beta testing a Buy button on tweets; Facebook just introduced auto play video ads for mobile app advertisers and Instagram finally launched sponsored posts. U.S. social media ad spending is expected to top $15 billion by 2018, with $7.6 billion going to social mobile ads. Combine the number of people using mobile phones for everyday browsing with those spending time on social platforms, and social mobile ads are one of the best ways to reach your target audience, at almost any time of the day.
There has never been a more important time to target those ads to the right audience. There's more competition for ad space and a less-captive audience scrolling very quickly through news feeds. Getting the right message to the right audience should be a guiding principle you follow with all marketing efforts in 2015.
2. Resurgence of emails
Highly segmented email campaigns are working. Customers are responding to straightforward, visual emails. With 66% of email opens happening on mobile devices, short and sweet is critical. Visual content, like videos, can help boost open and click rates.
As mentioned above, getting the right message to the right audience is of utmost importance. Just as fast as you can click send, a customer will unsubscribe from your list if you send irrelevant content. Segment your list email list based on purchasing behavior and customer-initiated preferences.
3. Everything becomes automated
Essentially, it has to. In the age of real-time, instant gratification, systems have to be put in place that automatically feed the next line of information to interested consumers. Whether it's an automated "thank you for signing up" email or an automated ad that appears following a visit to a website, the right information needs to be presented at the right time. This is why marketers are turning to the inbound marketing playbook – the process requires setting up workflows, which helps you identify the steps a prospect should take to become a lead. Many of these steps become automated, ensuring that the right information is served up without manually doing the work each time.
Trends shouldn't trump other tactics you've put into marketing plan. These trends are worthy of your investigation to see how they could play a role in your program. These tactics will help you connect with potential customers and build advocates from your current ones, when executed properly. Want to learn more about optimizing your 2015 marketing plan?