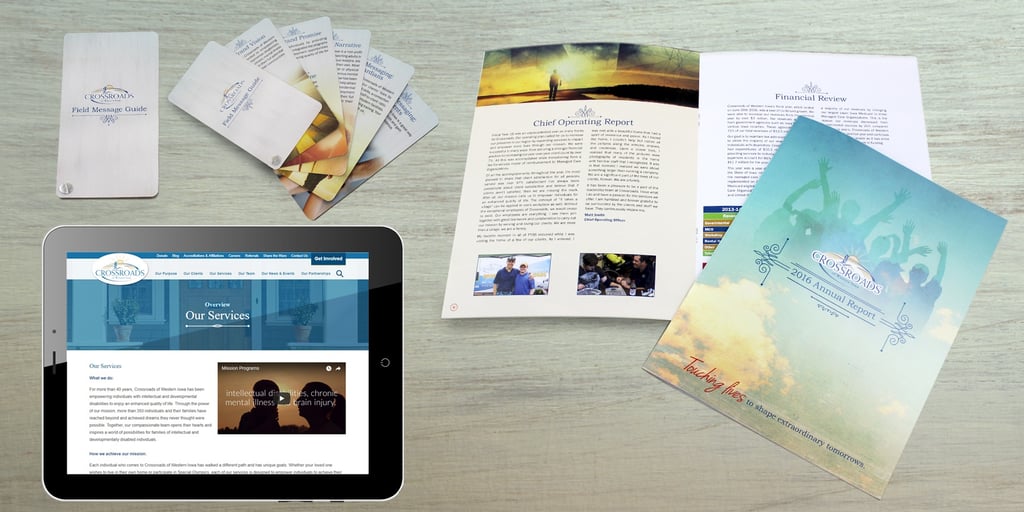 Crossroads of Western Iowa partnered with Spindustry in early 2016 to strategically define and align core audiences, messaging and branding. The culmination of this work has concluded, with further strategic engagements ramping up mid-2017.
During this initiative, Spindustry and Crossroads of Western Iowa (CWI) worked together to extensively define each audience group – their values, needs, challenges and goals – and then create messaging to speak specifically to each audience. A new Field Message Guide was developed and provided to staff. All printed and digital materials are being updated to align to the new messaging and to ensure a consistent look and feel is applied to all assets.
Additionally, Spindustry provided social media coaching and performance reviews with the CWI marketing team. Finally, Spindustry designed and developed a new responsive website to align with the messaging and new design standards. Visit the website to learn more about how CWI has been a resource to the public, providing employment opportunities and teaching life skills to persons with disabilities for over 40 years.
Brent Dillinger, Chief Executive Officer at Crossroads of Western Iowa, said this about his organization's partnership with Spindustry, "For more than 40 years, Crossroads of Western Iowa has been supporting adults with intellectual and developmental disabilities. Even though many people are familiar with our mission and services, our organization lacked a defined brand. Last year we turned to Spindustry to create a brand strategy for us. Their expertise, guidance and track record in the industry helped establish a 'voice' for Crossroads. Thanks to Spindustry, our employees are better equipped with the tools necessary to promote our services to the community. We now feel more confident when engaging with clients and their families, and we eagerly anticipate another 40 years of empowering individuals for an enhanced quality of life."