Every time I open LinkedIn's app on my iPad, there she is. The woman with sunglasses, wearing what appears to be yoga pants – crossing the street in a big city. And if my memory serves me correctly, she's been the "face" of LinkedIn for about a year now.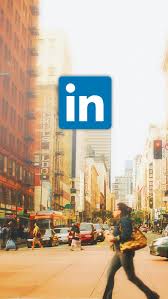 I'm not a photographer by trade. But I am a content management expert. I think LinkedIn has a little work to do on its online presence – starting with this photo. Here's my advice for LinkedIn to improve its front cover on the iPad app.
Use real LinkedIn users in real settings. I get a notification almost every week that I am a LinkedIn "super user." Apparently, my profile gets more views than 95 % of all LinkedIn users in my career category. Why not use people like me on LinkedIn landing pages or iPad cover?
Yoga pants girl is not cutting it for me. I can't see her face, she looks like she might be going to pay a parking ticket. She does not look particularly career-oriented.
Switch it up! Why not change the cover photo weekly?
The number one rule of content management is to change it up – frequently. She's been there for months. Time to replace the photo with another image. Here are some suggestions:
Real users
People who have found a job using LinkedIn
Job seekers
LinkedIn "influencers"
Recruiters
Thanks for listening, LinkedIn.