Michael Bird, President of Spindustry Digital, shares insight into how Spindustry serves the manufacturing industry with technology.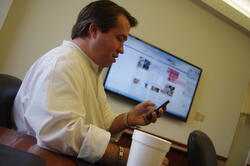 1. How does Spindustry Digital serve manufacturing companies?
Manufacturers typically need help in a few areas. Often they have developed sales channels long ago and continue to nurture those, but marketing to new people isn't something they focus on or have had to do. In addition, while we have seen a focus on lean manufacturing and improving the plant operations, they have not examined their information management and sales process. Spindustry Digital can bring an outside perspective, new ideas on how to market and the power of digital to the table.
A few years ago we helped Pella Windows communicate to their network with the development of an online "go-to market" portal. More recently, we helped Pilot Rock take their products from paper to database and build an online product Configurator and RFP system.
2. What's the number one challenge you hear from manufacturers?
Manufactures need to grow and are in competition to do things more efficiently in the face of global competition. Addressing that means reconsidering everything. This could involve developing relationships with the end consumer vs. their dealers and letting go of other assumptions based on rules of twenty years ago. Digital allows you to operate with a different ability to scale.
Brownells, the world's largest supplier of firearms accessories and gunsmithing tools, is able to use digital both in managing customers in their call center and sharing data with multiple sites they operate, as well as partner auction and educational websites.
3. How does digital complement or enhance a manufacturer's business?
While some challenges are the same as they were thirty years ago, the solutions are different. When companies would look at adding lines, expanding into new territories, etc. in the past the amount of information they had was limited, the time to market was long and controlled by when the next catalog was to be printed, and no real feedback was there once something was launched. Trade shows ruled the land. Now, manufacturers can digitally ask their dealers and consumers what they want more quickly, they can demonstrate ideas via video and 3D models, and they can get feedback instantly. They can market via email, social and text and do so around the world. Again, the limitations of scale have been removed in many ways.
4. What questions do you wish the manufacturing audience would ask about digital?
Well, change is difficult. But change brings opportunity. I wish they would question the self-imposed rules they have set for themselves and revisit plans and dreams they had years ago. They can then look at digital tools and strategies to make these dreams realities. The ability to simply give something a try is much easier.
We have worked with several manufacturers with local scope that have taken their brand, or a new brand name, online and successfully built a business taking orders from around the country and in some cases the world.
5. What's one piece of digital advice you'd give to a manufacturer?
Use the web as a research tool even if not as a new channel. You can learn about what the market wants, what your competition is doing and even discover new ideas from other industries.
We used web analytics and social media monitoring for nearly a year before building Pilot Rock's new website, as mentioned above, and the site is stronger for it.