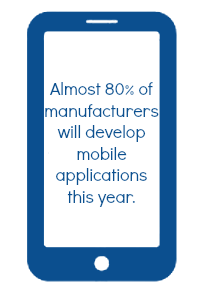 The rapid development and escalating popularity of mobile technology has effectively changed the way we communicate. However, how can it impact business productivity with both employees and customers? The manufacturing industry has reacted to this trend and will continue to transform. Almost 80% of manufacturers will develop mobile applications this year. The question is, how has this new technology changed the landscape of the manufacturing industry?
It begins with employee impact. With the assistance of mobile technology, remote employees receive immediate response and assistance to questions that come up or issues that occur. Transmitting pricing information to dealers or placing a service requesting becomes instantaneous. A recent survey by Motorola stated that manufacturers who use mobile applications save an average of 42 minutes per employee daily. An increase in productivity directly correlating to a larger profit makes the investment in mobile technology that much more worthwhile for manufacturers. This accessible and user friendly technology is appealing to workers on the manufacturing floor looking for instructions or recording data. With employees that are going out into the field, notifying them of any road accidents or delays they may encounter adds a bonus safety feature to the development of mobile application.
This increase in accessibility translates to how manufacturers are able to interact with customers. Manufacturers are able to have real-time, direct communication with customers needing assistance. Mobile applications currently help 32% of small/mid-size manufacturers keep an updated contact list, enhancing their communication with customers. When interacting with customers in the sales field, questions about products or processes can easily be answered in a timely fashion when all of the necessary information is accessible.
Over the last 17 years, Spindustry Digital has built many different mobile tools which help connect manufacturers with customers and increase productivity. If you are searching for a mobile solution for your business, contact Spindustry Digital.