Several members of the Spindustry Digital marketing team attended the AMA Iowa Experience event on Friday, January 31. This first time event for AMA Iowa was held to celebrate and share marketing stories and tips with other Iowa professionals. Six speakers and a panel took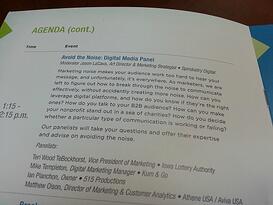 stage during the daylong event. Here are a few takeaways from each session presenter.
Content-Powered Engagement – Dan Davenport, Content Director at Meredith Xcelerated Marketing
Davenport's presentation and case studies can be boiled down to one key statement he made: "Don't fall in love with your solutions. Fall in love with your customer's problems."
Davenport recommended starting with strategy first, then content. The strategy should be based on experience, analytics, research/trends, social insights, search engine optimization and keywords, audit of existing material and competitor analysis.
The Recipe for Success – Christina Moffatt, Owner at Crème Cupcake + Dessert
Moffatt shared her moving story about transitioning from a full time "corporate" job a full time baker, where every challenge was followed with a blessing and a sign to continue on her journey. Ultimately, her wisdom regarding creating a strong personal and professional brand is a key to success. A key takeaway phrase that resonated with the audience was "be patient and persistent."
Marketing Alignment with Consumer Technology Trends – Nathan Wright, Digital Marketing and Innovation at Hy-Vee
Wright recently attended the Consumer Electronics Show in Las Vegas, where he spent time looking at technology that impacts the home and the kitchen. He was surprised by the lack of true "smart" technology in the refrigerator, where much manual work is still required to have the right experience.
The hot trend at the event was wearable computers. Think of the Nike Fuel Band, new smart watches and other "accessories" filled with technology.
F'N Big Ideas – Delaney Lynch, VP Director of Ideation at The Integer Group
Lynch nailed her point home immediately – never start with the execution; start with ideation. You want to find the big idea first and that will guide you in how to best execute.
Selling the Des Moines Experience – Greg Edwards, President & CEO at Greater Des Moines Convention & Visitors Bureau
Edwards entertaining speech focused on the shift in phrase "convention and visitors bureau" to the now more commonly used "destination marketing." He talked about how they've used video in RFP responses and recently started a new Catch Des Moines blog.
Avoid the Noise: Digital Media Panel – Moderator Jason LaCava, Art Director & Marketing Specialist at Spindustry Digital. Panelists included: Teri Wood TeBockhorst, Vice President of Marketing at Iowa Lottery Authority, Ian Planchon, Owner at 515 Productions, Matthew Olson, Director of Marketing & Customer Analytics at Athene USA / Aviva USA and Josh Fleming at Meyocks Group
LaCava led the panelists through a series of challenges marketers' faces today. The panelists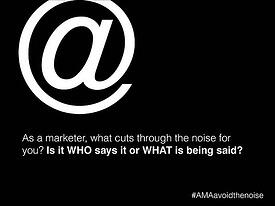 touched on their experiences in trying digital mediums that didn't work and how they transitioned away. The majority said that the concept was right but the wrong medium was used. They moved the idea to a new platform and really connected with the audience. Video was brought up numerous times and how the power of storytelling is elevated in this platform. All reiterated that clean, simple and professional video is key.
They also touched on messaging and that in B2C it's not always the who or what, but really the how messaging is said that will resonate with audiences. For B2B, the who plays a more influential role. Finally, for non-profits, they recommended to speak emotionally, not rationally, to catch and inspire people.
Gamification – All Grown Up: How Games are Changing Business – David Reisner, Director of Strategic Design & Integration at ITA Group
Reisner spoke about the influence games have played on technology today. Games brought us personalization (icons, preferences), leaderboard (competition perspective) and badges/awards for various achievements in technology. That has translated to other products we use today. Reisner's example was the Starbucks app, where users earn specials and recognition for continuing to purchase products.
Ultimately, Reisner said that you need to focus first on what you want your audience to do. The technology is just a platform to house what it is you want them to do.
Thanks to AMA Iowa for putting on great programming for marketers in our state! If you'd like to talk about digital marketing and how it fits into your overall business strategy, contact our team today.