While browsing the Internet, you have probably researched a particular product and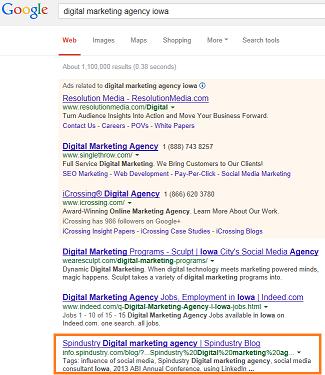 purchased it online, searched for a company's phone number, compared the products and services of two local competitors and perused the status updates of friends on a social network. Imagine if the information was out of date, disorganized or simply not there at all. Also think about this if you're a business: what if the information found wasn't written by anyone within your organization?

The web has evolved beyond hosting a series of brochure websites. Social media channels, like Facebook, YouTube, Twitter and others have opened the door to new types of content being shared online. Add in sites where you review companies and products, like Yelp or Google Reviews, and the number of people potentially talking about your company has grown exponentially.

The search engines are well aware of what's going on. They are using all forms of digital content to evaluate and rank a website for keywords. Ten years ago it's likely the only content about your organization appeared on your company's website. Today there could be hundreds of other sources talking about your company online and that content is influencing your search ranking.

The digital content you put out today is affecting your ranking. The impact depends on your frequency of posting and how well you have optimized your content. Additionally, how quickly, if at all, are you responding to comments people make about you? Whether someone left a comment on a review site, on your website or your social media channels, the search engines are paying attention to when and if you respond, no matter if it's positive or negative comments. Doing nothing can harm your ranking.

The solution to this is to produce meaningful, optimized content. Consider these questions to help you determine what content to share online.
What topics are of interest to your potential and current customers?
What insights can you share based on your company's experience?
What additional detail can you give about your products and services?
Would complementary "how-to" videos be of value?

To optimize your content, verify which keywords and phrases are being most often used in search engines regarding your products and services. If your company calls your product a red drinking cup but more people are searching for the phrase red drinking glass, think about how to work in the latter in your content.

The content you create can be shared in a variety of manners. There are many options; try to diversify where your content is placed. Examples include:
News section of your website
Company blog
Forum or blog where you are a guest writer
White paper available for download on your site
Company social media outlets

The value of digital content continues to grow. The best place to start is to develop a strategy for content: identify the topics, the mediums you'll place content on, the author and verify keyword and phrase searches. Want our digital marketing experts to help you?