Almost three months ago we posted a blog on the value of a marketing campaign. We described the challenges presented to us by our sister company Spindustry Training and their desire to develop and execute a marketing campaign. We launched "Some Things Are Just Better Live" on July 1 and have third quarter results to share.
During the campaign, we utilized digital marketing mediums including Facebook, Twitter, LinkedIn, YouTube and a blog. We also maximized traditional offline marketing with postcard mailings and two events. All of these efforts were aligned back to a central message. We were more effective with our time by repurposing content across different channels.
While some may think that because Spindustry Training and Digital are sister companies that unlimited budgets and timelines existed. The marketing team can assure you that was not the case. We had a few new requests as the campaign moved forward, but kept original proposed plan within a pre-defined budget and within the Q3 timeline. Following the end of the quarter, we measured the results. All results start with Q3 2013, which again is the timeframe we executed the campaign. Here's a brief summary of what we found:
Q3 2013 revenue increased 30% compared to Q3 2012
Q3 2013 revenue increased an average 27.5% over Q1 and Q2 2013
Q3 2013 website visits increased 26% from Q1 2013 and 20% from Q2 2013
Q3 2013 clicks to the site from social media increased 1,960% from Q1 2013 and 563% from Q2 2013
Q3 2013 blog readership increased 5,580% from Q1 2013 and 821% from Q2 2013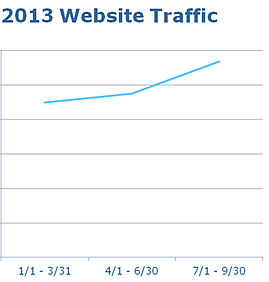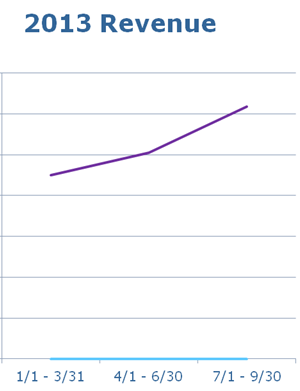 You can see in the charts above that as the website traffic increased during the campaign, the revenue also increased. Overall, our client is pleased with the results. The impact was also felt beyond the core metrics they expected. The conversations with new and potential clients started to change and there has been increased interest in the business.
Are you ready to start strategizing, executing and measuring the impact of your marketing campaigns? We can help! Click on the button below, fill out the short form and we'll provide you key tips on measuring your digital marketing.