The Spindustry Digital team is a group of hard-working, talented people. We take pride in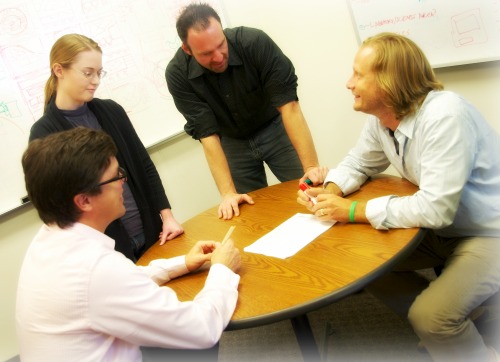 solving business problems with technology. It's more than just a "job" for us; it's the opportunity to strategize, collaborate, create, test and measure our ideas to solve those problems. We are grateful that we have been honored recently for our efforts.

On September 22, Spindustry Digital was named the #1 small-size Top Workplace in Iowa by The Des Moines Register. This distinction is earned via results from surveys filled out by employees. Companies recognized were deemed to have created workspaces where workers thrive. That space is created in part by our appreciation that we're more than just developers, designers, marketers, strategists and project managers. We are moms and dads; we're volunteers; we're husbands and wives; we like videos games, movies and TV; we are runners, poets, coaches, painters and travelers. We draw upon both our personal and professional experiences to come up with creative ideas. That atmosphere is not something you'll find in every company.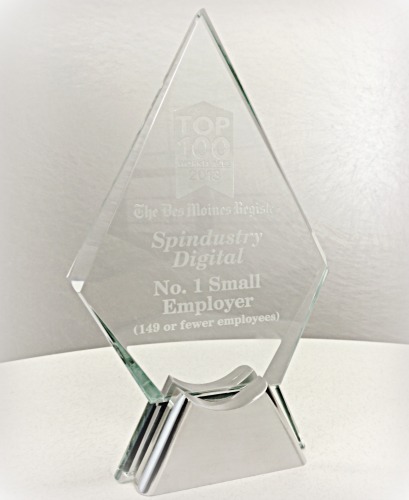 We were also recently recognized by the Business Record and Des Moines Area Community College (DMACC). The Business Record's annual Best of Des Moines results were announced and Spindustry Digital was runner-up for Best Web Developer. We know that clients and friends were kind enough to write in our name, giving us recognition for work we do with businesses in the community. DMACC held their first annual Small Business Award and Spindustry Digital was a finalist for Most Innovative Company. A panel of judges evaluated the nominations and determined the finalists.

This honor helped round out our trifecta of recognition in the past week – recognitions determined by our employees, our clients and community and an outside panel of business leaders. It's quite a positive feeling, and we're honored to be honored.