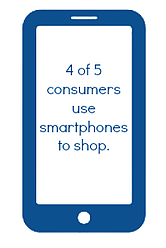 Cellphones feel as though they have become just as important as oxygen in the world we live in today. More people have mobile phones than access to a working toilet! Laugh now, but what happens when you lose your phone or go on an overseas trip to a secluded area with no cell tower? First reaction is typically complete panic, and from there the options transition from wallowing in self-pity to making desperate pleas to regain communication.
This is the mobile marketing movement and it is changing the way we communicate, the way we behave and the way we purchase products. Smartphones make consumers smarter by substantially increasing their access to compare prices, get reviews and search for promotions or coupons. In fact, 74% of consumers said that they have made a purchase based on information they received from their smartphone. One might assume that with an extraordinary statistic like that, that most businesses have already made the necessary adjustments to their mobile sites; however, one out of three companies still do not have a mobile specific site.
With a 400% increase of Google searches being carried out on a mobile device last year, it is important that businesses not only have a mobile site, but also cater to the needs and wants of their mobile consumer. Take a look at the mobile site for Panera Bread, Zappos or Etsy. Each company is a mobile innovator because they have fulfilled the desires of their mobile consumers while making their site more accessible.
The best way to begin the process of developing a mobile site is by knowing what is most important to your mobile consumers. Do they simply want directions to your store or are they searching for a coupon? Start gaining insight today by measuring the bounce rate (people who visit only one page of your site and leave) and the pages users go to when they visit your site while using their smartphone. If you need strategists to conduct consumer research, a fantastic marketing team to help you measure or developers to help build your mobile site, contact Spindustry Digital.
Watch the video below for more information on mobile marketing.