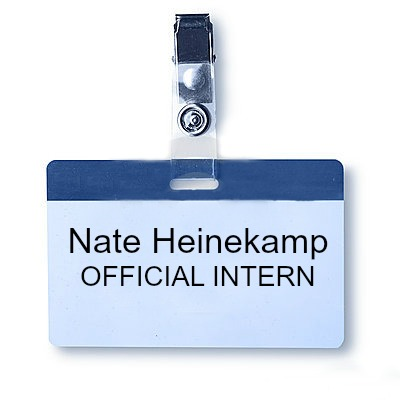 1. Search
This is where it all begins. If you're a college student trying to land an internship, you've got to keep your eyes open. It's always the most proactive job seekers that get their dream job, which means you should be attending networking events, have an active LinkedIn profile and be utilizing your professional network whenever possible. Most importantly, don't be afraid to put yourself out there. It all starts by asking.
2. Apply
Once you've found an open position, it's time to apply. Include your resume, cover letter and references (if requested) when applying. It's perfectly acceptable to follow up with someone in HR after submitting an application, but don't be obnoxious or pushy. If used correctly, a well kempt professional network will do wonders for you in the application process. Do you know someone who works there, or you do have any LinkedIn connections there? Reach out to them before applying and ask for any helpful advice. They just might be able to get your application in the right hands.
3. Interview
The big day is here! If you've made it this far, you're far ahead of most applicants. Before you show up to the interview, do your homework on the company, the staff, and if possible, the person you're interviewing with. Tying that information into your answers shows dedication to the company and an eagerness to learn. Remember to arrive early, dress appropriately and walk in the door with a smile on your face. During the actual interview speak confidently and calmly, and be ready for the "Tell me about yourself" question. The tail end of the interview will likely give you the chance to start asking questions, so be sure to have a few ready to go beforehand. When all is said and done, you need to follow up to thank your interviewer. Emails are the popular option, but if you really want to stand out against the other 100+ emails your interviewer gets each day, opt for a hand written thank you note instead. Enclose your business card in the thank you note for an added bonus.
4. The Offer
You got the job offer, congratulations! As tempting as it may be to accept the offer right away, consider sleeping on it first. This will give you some extra time to mull it over and make sure that the job is in line with your long term career goals.
5. Work
You may have aced the interview and accepted the offer, but the real work is still ahead of you. Always show up on time and be ready to hit the ground running when you get in the door. This is an internship, so you're not expected to be an industry expert; you're there to learn. Don't be afraid to ask your coworkers questions. They're seasoned professionals and can probably offer some helpful advice. Most importantly, be a sponge and soak up as much information as possible during your time there.
6. The End
The work is done and you're ready to start the employment cycle all over again. Before you leave, make sure you have the contact information of any managers or coworkers you worked with. Remember to update your resume, portfolio and LinkedIn profile to reflect your most recent job accomplishments. You may be leaving the company, but don't be afraid to check in with old coworkers from time to time. You never know what openings they may have or what job seekers you can refer back to them.
My Experience
The experiences I've had at Spindustry thus far have been invaluable. Not only have I been tasked with real world, client-focused work, but I've also been surrounded by a supportive team of experts waiting to answer any question I might have. I haven't made any coffee runs, but I have worked on a wide range of accounts. I didn't make any copies, but I did contribute to a number of successful client campaigns. Over the last few months I've not only sharpened my marketing skill set, but also expanded it in new ways I never thought possible.
These six steps will lead you through a great job, but it always helps to have a solid team around you. The team at Spindustry Digital is one of the best. If you're interested in joining the team, check out their current openings here.