We're 72 days into 2013; how is your marketing plan holding up? If you haven't finalized it yet, or even if you haven't started, don't worry. It's never too late to start, though we'd recommend doing it sooner rather than later. No matter what stage you're at in the process, here are some helpful tips to get the ball rolling:
Create a Plan with Purpose
Having an outlined marketing plan will better help your marketing dollars align with your sales goals. To create an effective marketing plan, map out your goals, set target dates and then align those goals with your marketing spend. While you may not know what every Tweet is going to say in 2013, having a few areas of heavy focus will help build a foundation for your communication strategy in 2013.
Utilize Social Media
Social media isn't going away anytime soon. With over 1.06 billion people on Facebook, just having a company profile isn't enough. You should constantly be curating relevant content for your fans' newsfeeds to build some level of engagement. An open dialogue on social media is important, so be sure that you're always having a two-way conversation and not blasting them with spam.
Facebook is important, but don't forget about the thousands of other social platforms available. Beyond Facebook, try to find a network that will show off your brand's best side. Twitter is usually a go to for brands getting started in social media, but what about Pinterest? Twenty five percent of Fortune Global 100 brands are active on Pinterest. Did you know that Zappos customers are 13 times more likely to share their purchase on Pinterest than Twitter? Perhaps it's not just a giant tack board after all.
No matter what platform you choose, the most important thing is to be relevant and engaging. Post interesting news, ask questions and always take feedback warmly.
SEO: Content is King
In the past, some of the best SEO (search engine optimization) strategies were about knowing the tricks of the trade. If you knew how to canonicalize your URL and knew which H1 tag to use where, you'd have great page ranking. Fortunately, this is no longer true. The best SEO strategy today is creating incredible (and credible!) content. Instead of focusing on all the pages currently outranking you, focus on creating the best possible material you can. That will only lead to more linking, social influence and, in turn, an organic boost in page ranking.
Go Mobile
Global mobile traffic now accounts of 13% of all online traffic. If your page isn't mobile optimized for the 1 billion plus smartphone users in the world, you're surely missing out. With tablet and smartphone sales higher than ever, 2013 is definitely the year to make the jump into mobile (if you haven't already.)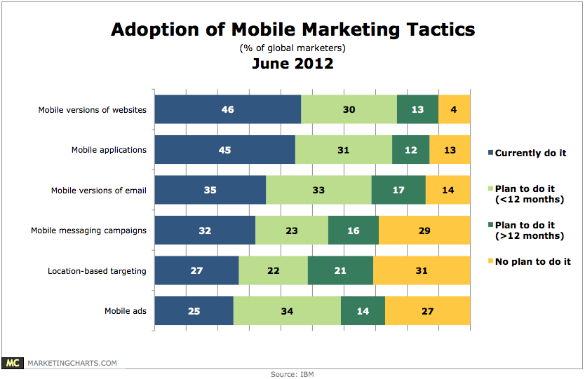 Measure Your Marketing
Social media, SEO and mobile marketing are all important pieces of the puzzle, but if you're not constantly measuring your results you could be missing out on valuable information. Keep tabs on how well your campaign is driving traffic to your site is easy with free tools like Google Analytics and Bit.ly. To gain additional insight into your analytics, like what it all means and what you need to do with your digital dollars based on the data, look at programs like Spindustry Digital's Marketing Assurance Program.
No matter what stage of your marketing plan you're in, it's not too late to get your 2013 plan in action. If you're starting from scratch, failing to compete or execute, or just simply can't fill in the gaps with your internal team, Spindustry Digital is here to help. Contact us today to hear about how we can help you plan and execute the digital components of your marketing plan.