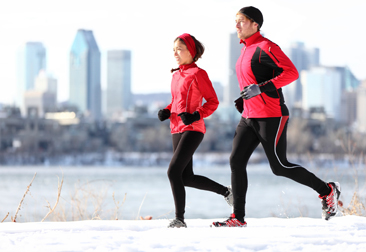 With the New Year comes new resolutions. The most common resolution is related to weight loss, exercise and being healthy. From apps that help you track your steps and caloric intake, to websites with communities that offer virtual support, the landscape of health and wellness has changed with the continued evolution of technology. Here are a few examples of fitness and technology I've seen pop up recently via my social networks, research and personal use.

1. Food Tracking Apps – Women's Running recommended three calorie-tracking apps including FitDay Mobile, MyFitnessPal and Spark People in a recent story. I downloaded the MyFitnessPal app. (I couldn't find FitDay Mobile in the app store and the Spark People app costs money despite the fact the article said it was free.)
I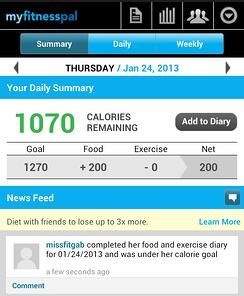 liked the MyFitnessPal interface and thought that browsing was easy. Adding a brand new food was a little challenging: it kept telling me the way I entered a serving size was wrong, but I couldn't find examples of what it would accept. Overall, my initial reaction was an 8 out of 10 for ease of use, interface and information provided.
2. Online Communities/Support – One of the most common online health and wellness communities I've heard of is Spark People. You can connect with any of the more than 15 million registered users for advice and support. It's not the only inspirational or motivational website when it comes to weight loss. A recent article I found online describes the journey that 12 obese strangers took together to each lose more than 100 pounds. It all started with a blog one of them decided to write in order to document her journey from 253 pounds to 133 pounds by running. There are many formal and informal healthy lifestyle communities online and a quick Google search will provide millions of results. If you're interested, try using more descriptive phrases about the type of community you'd like to join to help narrow your results, like running club.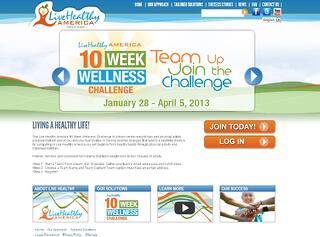 3. Online Programs – In addition to the community support, many health related websites offer programs to follow. Spindustry partner Live Healthy America is set to start their 10-week challenge program on January 28. Teams can decide to track activity minutes, weight or a combination of both. By building a team structure, the accountability and support becomes a natural offering of the program.
4. Offline and Online Integration Tools – Similar to apps on your phone that track your mileage (as long as you're carrying your phone!), FitBit developed products and services that bridge offline and online tools. Senior Programmer/Analyst at Spindustry Digital, Dave Hoxeng, has been using FitBit and shared his experiences.
"FitBit is a great tool because it not only has the website element to track food, exercise, sleep, water intake, etc., but you can also get the FitBit trackers. These are great little devices that track steps taken, distance walked, calories burned and the number of flights of stairs. When you get within 20 feet of the upload USB dongle, all of the information is automatically uploaded to your FitBit account. If you have an iPhone and the device is near it, it will automatically update your data. Another nice feature is that FitBit has created a great API, so many of the health sites will accept data from FitBit. The calorie intake program that FitBit has created is tailored to each individual's goals, so you can lose weight at the pace that you want.
So far I have been using the tracker for more than three weeks and lost 8 pounds by simply following their plan. I can tell you that it's helped me because I can see how much activity I am really doing and what food I am really taking in. I can take a look over the day and determine if I really do have enough calories left to have a treat or not. I'm loving it so far."

In thinking about apps, online communities and programs, consider how these same types of fitness related activities would have been completed five years ago, 10 or even more. When using pen and paper it's hard to easily calculate totals, averages, etc. Online tools slice and dice data for your review and understanding. I love exploring different fitness tools and seeing what works best for my healthy lifestyle goals.

What apps and websites do you use in your quest to live a healthy lifestyle?