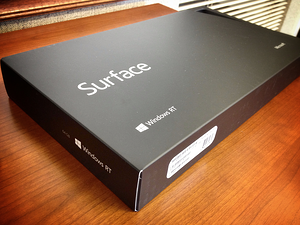 The Spindustry Digital team spends a great deal of time thinking about our client's mobile web strategy. We experiment with various devices, and take every opportunity we can to learn about new mobile devices. After a week and a half, I am starting to get the hang of my new Microsoft Surface tablet. Here are some of my personal reactions after these initial days of use.
The packaging for the Surface is top drawer. Microsoft has certainly taken a page out of Apple's guidebook here. While different from Apple, the packaging is slick and cool. The Surface, itself, has a different shape—more rectangular—than the iPad. On that topic, I don't really know whether to compare my new Surface to my iPad or my Dell laptop? The Surface really fits somewhere in between.
My Surface is equipped with a 64 GB hard drive. It also has a detachable keyboard that is wickedly thin. The keyboard's material is sort of suede-like. Not knowing whether I would like typing on this ultra-thin keyboard, I purchased the optional "type cover," which is a slightly thicker and more responsive keyboard.
Windows 8 is the new operating system that drives the Surface. It's somewhat intuitive, though I know there are some things that I don't yet know how to do. The whole interface is now image driven. Gone is the familiar Windows toolbar at the bottom of the screen. Once I get Windows 8 figured out, I think I will be a believer.
One thing that I really liked out of the box was the cool, magnetic charging adapter. It seemed like a cool thing until I tried to charge my Surface late one night in the dark (my wife was asleep and I didn't want to wake her). Unless the adapter is perfectly aligned, it's a pain to get it to connect.
Although the Surface appears to be quite similar to most other tablets in look and feel, it does have the advantage of a larger screen that gives it a true 16:9 aspect ratio and a screen resolution at 1,366 x 768 pixels. This allows you to watch most shows without the need for black bars balancing the picture within a smaller screen.
I am sure my opinions will evolve after I've owned the device longer and had the chance to use in a variety of settings. As of 10 days into ownership, I like it a lot. The display is great, the new Windows 8 operating system is cool and I think the volume of apps designed for this new Microsoft platform will grow quickly. While I'm still a big Apple fan for entertainment, I think Microsoft has made a major leap in productivity. I know my Dell laptop is short for this world.
Let us know what you think of the new Microsoft Surface.