Ever since I was a kid I have been a sucker for history; I am pretty sure I was the only kid on my block begging my mother to take me to the Abraham Lincoln exhibit when it opened at a local museum. So, it was no surprise that I was immediately drawn to finding out as much information as I could when I found out about the "Lost Egypt" exhibit at the Science Center of Iowa. Thankfully, we are living in the digital era, and everything I ever wanted to know was at my fingertips and accessible through social media.
This got me thinking, how many companies and organizations that host events and do not use social media properly, or to their full advantage. Maybe your organization does not have the pre-established anticipation and suspense of ancient mummies and cryptic scrolls, but businesses should take a hint from the Science Center of Iowa and its use of social media to attract visitors. So, with the help of Emilee Richardson, Marketing and Communications Coordinator at the Science Center of Iowa, hopefully I can shed some light on how you can maximize your company's event exposure through social media.
First things first, once you decipher which social media platforms you will be utilizing, build a brand for the event. If you have an in-house graphic designer, have them create a logo, incorporate a creative event hashtag for the event and use all of your promotional platforms in collaboration (i.e. post a video from your YouTube channel on Facebook).
As with any event, you always want to build anticipation; Richardson told me their first step began with creating a contest where they released two hieroglyphics each week along with a 'hidden' webpage for decoding. "The key to this strategy was giving people the opportunity to have a unique experience – to give them something they wouldn't be able to buy – and to engage them with Science Center of Iowa," says Richardson. While I love this idea, I would recommend being very cautious with contests and Facebook. Facebook has certain stipulations, so to be safe, always run the contest through a blog, separate website page (like the Science Center of Iowa) or create a Facebook landing page.
Another rule I have about using social media to promote events is to make your followers feel included. Besides the obvious inclusion of posts offering engagement, be sure to always include event preparation photos. "Installing an exhibition is no easy task, but because it's done behind closed doors, most people have no idea what's involved," said Richardson. "With Lost Egypt, we took our social media audience behind the scenes through photos of the crates arriving at the Science Center of Iowa, initial set-up and eventually, the elaborate arrival and installation of the human mummy and coffin." So, maybe you don't have people unpacking ancient relics to display in your photos, but your followers will feel exclusive if you offer them behind the scenes 'sneak peeks'.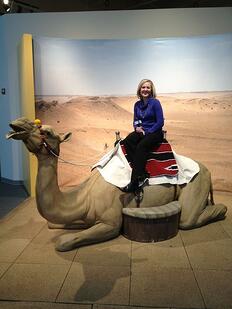 Lastly, just because your event has started, does not mean that you should not continue promoting it. In fact, you can sometimes create more buzz when it begins. Science Center of Iowa is doing a fantastic job by allowing guests to take pictures on a life-size fiberglass camel. The camel has a sign next to it instructing visitors to 'join the caravan' by posting their pictures on the Science Center's Facebook and Twitter.
Hopefully these tips have, and will, be helpful for your future event promotions. One last piece of advice Richardson mentioned, and the golden rule of anything relating to social media, "encourage input from people and show them that their ideas make a difference."
A big 'thank you' to Emilee Richardson and the Science Center of Iowa for taking the time and offering her contributions and thoughts on this topic! I cannot wait to check out the "Lost Egypt" exhibit this weekend!