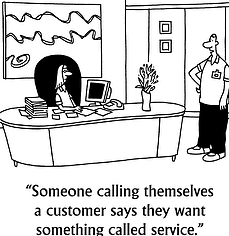 We have all had a poor customer service experience. In most cases, you probably shared this experience with peers; even if you chose not to share it with the business owners/management. Growing up surrounded by two family-owned businesses, I was always told, for every one person you make happy, they will share it with one person; and for every one person you make angry, they will share it with six people. In today's digital era you can multiple that times 100.
A recent survey reported 90% of people trust peer recommendations, while only 14% trust advertising. Take a guess at where the vast majority of those recommendations are coming from? You guessed it, Social media. Social media can be a gift, or a curse, to businesses. You can choose to participate in it, to engage and listen, and you can also choose to turn a customer's bad experience into a positive one. I am continually baffled by companies who choose to delete a negative customer comment, or refuse to acknowledge the comment. Unless the comment is totally unmerited and/or false, you should avoid deleting a negative comment from your social media platform.
Why? There are two primary reasons. The first, involves the persons continued actions. They have engaged your company in a dialogue whether you like it or not. If you remove their comment without any acknowledgement, they will likely continue their posting until further action is taken. Second, no one appreciates being ignored. Simply deleting the note may fuel their passion to share the experience with a wider audience.
As a social media specialist, I am confident in suggesting to clients that if you respond in a respectful, honest and service-oriented manner, you have a significant chance at gaining back a customer and expanding your goodwill. Take for example, one of Spindustry's clients, Brownells. Brownells took a disgruntled customer's Facebook post regarding a lost shipment and responded publicly to hear her concerns. They took responsibility, apologized for the error and corrected the situation. This led to other customers, as well as the disgruntled customer, applauding their response and touting their excellent customer service online.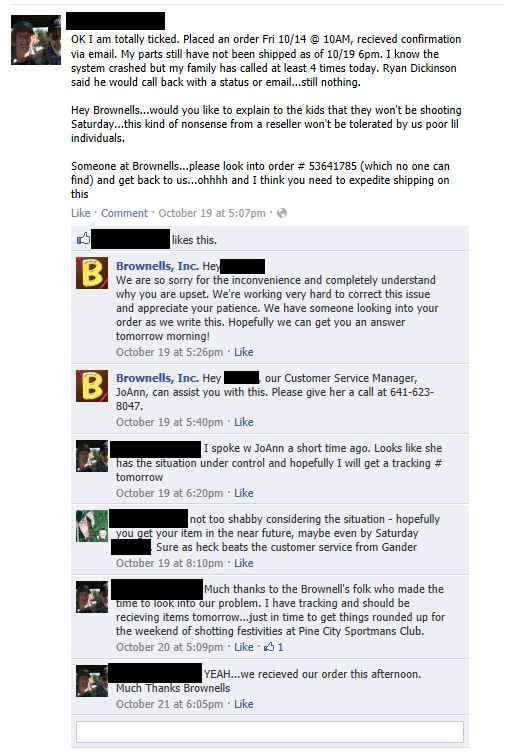 Your company can turn a customer's bad experience into a positive one by following a few simple guidelines:
Be timely. You should have a monitoring system in place so you know what is being said about your company even if it is not on your company's social media page.
Be sincere. The first part of your response should be an apology, and it should also be genuine. People can always tell when you are not being sincere.
Let them know you are working on the issue, give them a time and date of when and who will be contacting them.
Reinforce your apology by offering them something for the inconvenience. Maybe it is something free at your business, or maybe it is a gift card for a cup of coffee at Starbucks.
Follow-up with them via their original social media post to assure the issue was taken care of. By doing this, you are showing them as well as any friends viewing the post that you truly care.