When discussing social media engagement, I often ask people to rewind to the days when they were still in school. Most students won't answer questions or participate in discussions until someone else has volunteered to be the first to begin the dialogue. Much like a classroom of students, many adults are still afraid to be the first to "raise their hand" during a presentation or when utilizing social media.
Because participation and engagement often gauges how well an event goes, it is important to offer forms of communication which are friendly to the audience and relatable. One of my favorite ways of engaging audiences in conversation during an event is to create a live Twitter feed. A live Twitter feed allows your audience to contribute and participate in event discussion without facing the intimidation of speaking up in front of others. Here is a small sample of a live Twitter feed from a Spindustry Camp Collaboration event: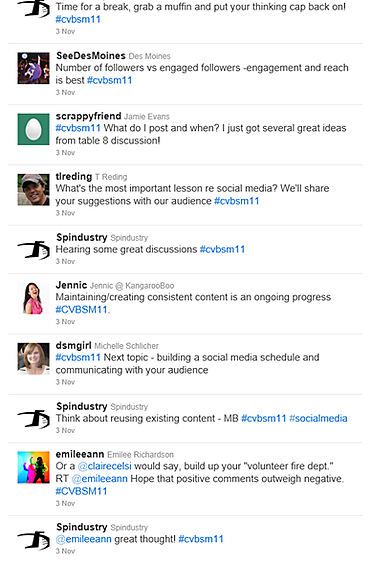 While a live Twitter feed is fairly easy to manage, you may want to consider a few tricks to capitalize on the conversation. Here are a few tips I have learned through my own experiences and mistakes when utilizing a live Twitter feed during an event:
1. The very first step in developing a live Twitter feed begins with creating a creative and easy to remember hashtag. Keep it short, and try to leave out numbers. I will admit that I have created overly complicated hashtags before which people mistype and struggle to remember – myself included! Here are some examples of a poor hashtag, and good hashtags:
Overly complicated and difficult to remember: #LdnPubCon11
Short and memorable: #TechBrew or #LostEgypt
2. After you have your event hashtag confirmed, you will want to begin building your community. This begins long before the event. Anytime you're promoting your event, you should also promote your hashtag as well. You can also increase participation by integrating a contest or giveaway into the feed, such as: the first person to answer this trivia questions gets a free gift certificate, or the first person to find a retweet a post you mentioned earlier.
3. Once the event begins, continue to promote the live Twitter feed by encouraging attendees to use the hashtag during the event and by adding it to any materials that they receive as a reminder.
4. Have some of your own content contributions prepared ahead of time. Depending on how social media savvy your audience is, you need to be prepared for a possible flood of interaction. Save yourself the headache and prearrange some of your tweet material.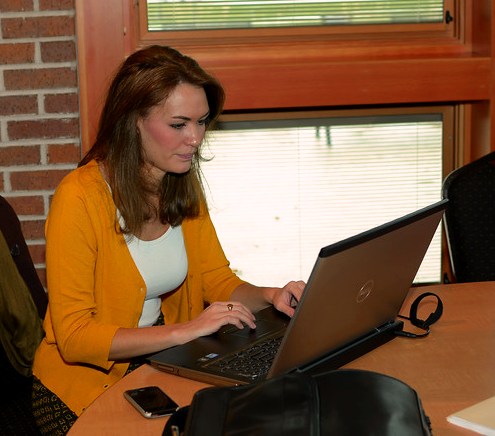 5. Participate in the conversation as the company hosting the event. Designate someone who is consistently monitoring, responding, thanking attendees and tweeting during the event. Let your attendees know you are listening by retweeting and replying to questions or intriguing comments.
6. Take advantage of having potential clients all in one place and add them to your network. It's better to do this manually than using a tool that automatically participates in the conversation designated by your event hashtag. With these tools, you run the risk of having your Twitter account suspended because Twitter recognizes this as an automated system, which it generally does not appreciate. So play it safe and opt to manually follow those participating in the conversation. It's tedious, but it could pay off!
Live Twitter feeds are great for maximizing exposure for your company, and boosting your virality through engagement. If you plan to bring event discussion online through a live Twitter feed, plan ahead, implement my suggestions and remember that you must be present to really reap the benefits of digital discussion.
If you have any other suggestions which would optimize the use of a live Twitter feed, please share.