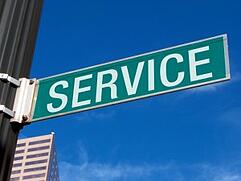 This week while visiting a client in a not-to-be-named southern state, my associates and I had the opportunity to try a new restaurant. We didn't know anything about it, but as we drove down restaurant row, this spot looked pretty good. The building was well-kept, and the overall look of the place was inviting. So we pulled in.
As we walked through the door, we waited for the young woman at the hostess stand to look up from her cell phone. No one else was in the lobby, though there were a few guests scattered around the restaurant. Finally, we were asked in a rather monotone voice, "How many?" We were then escorted to a table and handed silverware and a menu. The woman walked away without saying another word.
For the next several minutes at our table, we talked about how simple customer care is and how so many people fail to get it. Imagine if the greeting were something more like, "Hello! How are you all this evening?" Yes, it would have taken an extra second or two to say it, but the entire tone of our dinner experience would have been better. Further, had the hostess engaged those who walked through the door, she would surely feel better about coming to work. No doubt this job was just a paycheck for her.
We then spent time pondering how much the owner of the restaurant had invested in the business. It was a nice building in an upscale restaurant. The food was good. The crowd was light during the dinner hour. It's worth noting that our server wasn't much friendlier either. He did his job, took our order and served our food, but didn't bother to engage beyond the mundane process.
The bottom line is that it all really comes down to how you treat your customers. If they feel good about walking through your door—physically or virtually—they'll come back again and again. The extra investment in training will be returned many times over when your team makes your customers feel good about choosing your business.

Next time we're in town, we will be trying a different place.