Most Americans will tell you that time is not on their side. The vast majority will timidly admit that they don't have time to read a book, garden or go for a stroll. However, the typical American who wishes they had more hours in the day is spending an average of 77 precious minutes per day on Pinterest. Pinterest may not be ranked king of social media, but with more than a 145% spike in unique visitors since January 2011 (roughly 4 million unique visits per day), it is certainly becoming significant.
As with any social media site, businesses know they should invest in Pinterest, but are not sure how to tactfully incorporate it into their marketing plan. One suggestion for beginning down this path is to find a mentor; a brand that is successfully utilizing Pinterest. Better Homes and Gardens was one of the first brands to effectively integrate Pinterest into their social media strategy. With 72% of Pinterest's users being women age 25 to 54, Better Homes and Gardens' focal demographic was already. So, after noticing photos surfacing within the home décor category of Pinterest, the publication's digital editors began to execute a strategy which involved the launch of the Better Homes and Gardens Pinterest account in July 2011.


With the help of Kaelin Zawilinski, digital editorial manager for Better Homes and Gardens, I was able to formulate several tips to help mentor companies and brands that are ready to invest time on Pinterest.
1. Have a purpose. All too often, businesses establish a presence on social media sites because "everyone is doing it". That excuse didn't hold up well when you were a teenager, and it definitely won't now. For Better Homes and Gardens, establishing a presence on Pinterest wasn't necessarily about increasing magazine sales. According to Zawilinski, its primary goal simply was to be present on a platform their readers were already using. Determine why you want to be on Pinterest and what you want to get out of it, and if you can't do that, then Pinterest is probably not for you.
2. Make time. When forming your strategy, you will want to include plenty of management time. "The best thing you can do to grow your following is to be active and pin daily. Most large brands are pinning 15-20 times a day," says Zawilinski. For smaller brands and businesses, you may not be pinning quite as frequently spending an average of 2-3 hours a day on the site like Better Homes and Gardens, but it is still important to update as regularly as possible.
3. Track traffic. "With Pinterest our editors are able to identify trends and see what our readers love better than other social platforms," says Zawilinski. Because Pinterest is a very visual networking site, it tends to be much easier to track basic analytics. However, if you want to make your life a whole lot easier, you can now use PinReach to track analytics like pins, repins, followers and reach scores.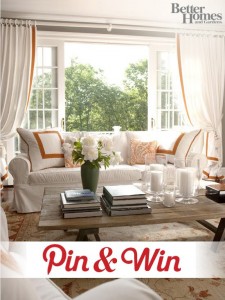 4. Be creative. Pinning photos is great, but there are so many other ways you can use Pinterest for your business and brand. Better Homes and Gardens is currently wrapping up a "Pin & Win" contest which asks users to pin their favorite Better Homes and Gardens images to a "dream home" board created on their own Pinterest profile. "We've had over 10,000 entries and our editors have had a really fun time seeing how our readers envision their dream homes," says Zawilinski.
5. Optimize with keywords and links. Search engines love social media sites because of their popularity. Google now catalogues Pinterest boards and profiles, so the more your incorporate relevant keywords and links back to your site through your pins, boards and Pinterest profile, the better your odds of showing up in search results. Remember to use keywords that users will type into a search engine, and try to incorporate long tail keywords (keywords with three or more terms: i.e. cooking on a budget) as much as possible.
6. Give it time. Rome wasn't built in a day, and neither was Better Homes and Gardens' Pinterest presence. If you expect immediate results, you're setting up your Pinterest platform for immediate failure. Just as Better Homes and Gardens did when it first launched its account, gradually guide current Facebook and Twitter followers to Pinterest. "We had a lot of users who were unaware of the platform, but in the course of a month they were using Pinterest as much as we were and started giving us board suggestions," said Zawilinski.
"Pinterest isn't the perfect platform for everyone," cautions Zawilinski. She is right; early on in the game Pinterest established itself as a very unique networking site with a highly engaged community. If you're still unsure if Pinterest is right for your business or brand, take a quiz to find out. If you would like to learn more about Pinterest, you can register to hear Zawilinski speak at PR News' two-day Social Media Summit.
For more information on using social media to grow your brand call Spindustry at 515.225.0920 or visit www.digitalmarketingagent.com.
A big "thank you" goes out to Kaelin Zawilinski and Better Homes and Gardens for taking the time to offer contributions to this article. If you haven't already, please visit the Better Homes and Gardens Pinterest account; they have some really creative ideas for the upcoming summer months!