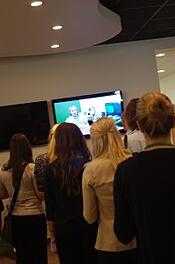 As the AMA Agency Crawl approached last Thursday, our marketing team began contemplating how we would create a memorable experience for the 70 students and marketing professionals participating in the event. At Spindustry, we have a process to follow for each of our projects but we also have a whole lot of fun generating ideas and
executing them. We wanted that same element of generating and executing fun ideas to be the focus of the event. We ended up with "A Sticky Challenge."
"A Sticky Challenge" was based off of a James Bond or Charlie's Angels type of drama. When the participants arrived at our office, they were asked to split up into teams and then prompted to watch a video. The beginning of the video was an informatory segment of a Spindonian describing how they implement "create," "design" or "connect" in their daily duties. At the end of the video, James Spindonian the third, a mysterious British character, would come on the screen and give details for each of the three tasks of the challenge.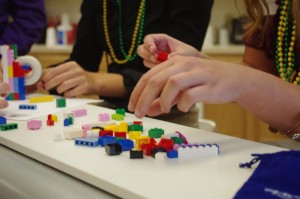 Task one required participants to create a plan of action for how they would design and market a new and innovative tape dispenser for their client, a high end
tape dispenser company in the Himalayas. In task number two, participants were asked to design the tape dispenser. There was a catch: the tape dispenser had to be built out of a mysterious, yet "sophisticated" material… Legos! For the last part of the challenge, participants had to connect with the digital community to market their tape dispenser.
One of the most intriguing trends we noticed during the design phase was that students and marketing professionals had two very different outlooks during product execution. The students created tape dispensers thinking way outside of the box (one tape dispenser had wings), and the marketing professionals created sleek, carefully crafted pieces.
As marketing professionals, we are often honed in to with client specifications and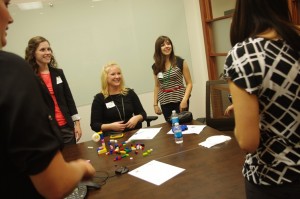 demands which refine our, occasionally, outrageous ideas and help us create campaigns which please both parties. Before this, as students, we see the marketing world through the eyes of a creative genius, ready to burst with ideas and possibilities. I think, and I hope, both groups can learn something from each other from this exercise.
"The Agency Crawl was a huge success! Kudos to Spindustry Digital and J. Sayles Design Co. for giving our marketing professionals and students a great experience at both of their agencies," said Sarah Barthole, marketing and communications consultant at Principal Financial and the director of programs for the American Marketing Association Iowa Chapter. "The tape dispenser challenge was a fun surprise and great way to get people interacting with each other. It was a very clever and creative idea for showcasing their capabilities."
If you would like to vote for your favorite tape dispenser team, please visit the Spindustry Digital Facebook page and click on the "A Sticky Challenge" Facebook tab. If you would like to view the challenge videos, please visit the Spindustry Digital YouTube channel.