If you sell products online, it's critical that you build an experience that shoppers love. This means that you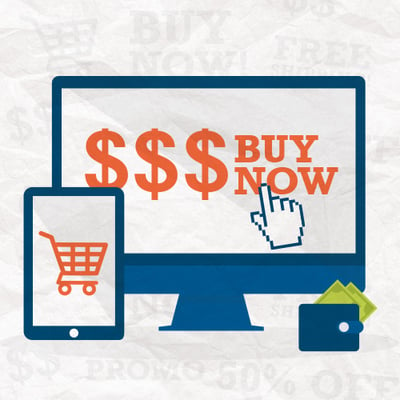 have to take into consideration the technical aspects of web development. Nothing will turn away customers faster than a clunky, slow or insecure-feeling website. Here are the top technical tips you need to keep in mind to build an awesome e-commerce experience.
1. Keep clicks to a minimum.
Customers shouldn't feel like they have to pull out a map and compass to find the buy button. Visitors should be able to get to a buy scenario in two to three clicks. Test this out on your current website. If it takes six clicks to get there, it's time to update your website functionality.
2. Build a comprehensive search.
Sometimes customers just aren't certain which category a product may be listed in, or quite opposite, they know the exact brand or product name or color they want. Instead of clicking around categories on the website, they want to quickly select criteria on a search and see all applicable results. Think about all the different product attributes, like color, size, manufacturer, price, materials and weight.
3. Optimize images, video and other assets.
While imagery and videos should look professional, these assets need to be optimized to work well on the web. Large file sizes can slow down the experience, forcing visitors to wait until graphics and videos load. Each page of your website has a "page weight." This is the actual size of the page that is downloading. If you have 20 images on a product category page and they are not optimized, the page weight might be five megabytes. That translates into minutes and minutes of downloading time. How frustrated do you feel when a page takes more than a few seconds to load? How long do you wait for a page to load before you give up and try a different site? Imagine the impression this leaves for customers.
4. Ensure you have adequate server bandwidth.
Similar to optimizing website images, you need to optimize your connection to the Internet. The more server bandwidth you have, the more information that can travel from your website to the customers trying to access it on the Internet. If you don't have adequate bandwidth, the information from your website will load slowly for visitors.
5. Invest in a Content Delivery Network.
If your customer base spans the country or the world, you need to consider investing in a Content Delivery Network (CDN). This is a large network of connected servers across the country and world. A CDN optimizes which server to pull your web information to deliver it quickly and efficiently. Think of it like traffic lanes. Having your site on one server means everyone has to travel down the same lane at the same time and it can get congested. A CDN opens up many lanes so that traffic runs more efficiently.
6. Choose a hosting provider that can grow with you.
You need a hosting provider that has the horsepower to grow with your business. When you launch your e-commerce store, you might be in a position where it makes sense to start on a shared server. As your business grows and more customers are purchasing products, you need to move to your own server ecosystem. Once on your own server, you may need to load balance your servers, which means you need a second server. The ecosystem may grow further from there. If you secure a partner that can support you at any and all levels of server needs, you'll save time, energy and money, instead of having to switch providers to get what you need.
7. Remember that all systems need maintenance.
Your car doesn't work if you never get the oil changed. The same is true for your website – it will not run properly without maintenance. You need a technical resource or partner to continuously monitor your digital presence, including the website and servers.
8. Use your analytics to make strategic web decisions.
Reviewing your website analytics will give you insight into what's working and what isn't for your customers. If a page has an exceptionally high bounce rate, it's a good indication that something needs to be modified on that page. You'll also uncover trends about purchasing habits, how many people access your site on desktop, tablet or mobile devices and other helpful information.
9. Invest in marketing.
You have this awesome e-commerce experience ready for your current and potential customers, but it won't matter if they don't know about your site or can't find it. Search engine optimization, search engine marketing, social media engagement and advertising, web content, email marketing and inbound marketing are just a few of the marketing services you need to consider to ensure your e-commerce store has shoppers.
A lot of behind-the-scenes work must occur to create a successful e-commerce store. Having a highly trained, experienced technical resource – or entire team – is critical to giving customers that seamless experience they expect when shopping online.
Get the latest technology and digital marketing news from Spindustry Digital.