When designing and developing a website, you likely spend more time thinking about the public facing side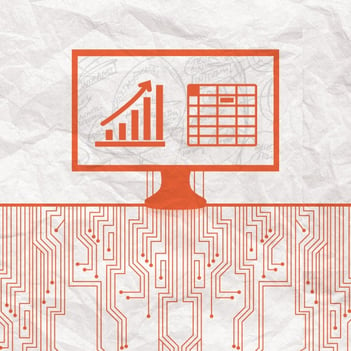 of the site. That is what the world sees, so it's important to get the look and feel right. However, the website's content management system is also a critical part of your web ecosystem. In addition to managing content, this is where you access reports. Reporting is a critical function, and a strong database architect and web developer can build out these reports. We offer seven tips for you to determine how better reports can be built for your website.
1. Gather current examples of reports you use.
You may be manually building reports right now that you'd like to see automated on your website. Have examples of these reports ready to review with your web partner, as it allows for more in-depth conversation of how and why data is used in the report. Be sure to think about what isn't on the report that you desire to have on it in the future.
2. Ask web visitors the right questions.
If you sell products online and need a better understanding if customers are purchasing for themselves or someone else, adding a checkbox for "is this a gift?" will allow you to find out. That data could be available as a simple count report or as a part of a larger report. Give visitors a reason to provide that extra information – for example, if they check the "is this a gift?" box, don't display prices on the packing slip.
3. Think about the details.
Knowing the total number of orders placed is critical information, but it's also beneficial to know how many people have used a specific promotional code or what path a visitor takes while on your website. What information would help you make strategic decisions about your business? Make note of different filters you need per report too. You may discover new insights when filtering by date, customer name or other relevant data.
4. Identify third-party sources that may have the data you need.
You don't have to reinvent the wheel with reports. If you want to know specific information about how many people visited your website or how long they stayed on a page, Google Analytics is a great option. There are many reporting tools that supply a certain level of data you need. If you determine a specific piece of data isn't available in one of these reporting tools, then you can ask your web developer to build a custom report.
5. Define the format of the report export.
Most people want to be able to export the web data. Determine the format you need. Common export formats are XLS, CSV and tab-delimited files. Do you have a format need outside of these options? Does it have to be print-friendly? The export layout may have to be modified from what you see on screen to accommodate this request.
6. Determine if data from the website needs to interface with a third-party system.
Some people export data from their web reports and manually import it into another system. Others want data from their website to automatically feed into a third-party system, like an accounting software system. Gather requirements from the other third-party systems you use, and provide that to the development team.
7. Identify any special data needs.
Is there a yearly roll-up report you want the development team to run for you once a year? Are you running a special campaign where you need specialized tracking and reporting? Take a look at your campaign calendar for the year and determine if any tactics require some special data needs.
Want to read more?
Check out blog posts about web development & website planning.