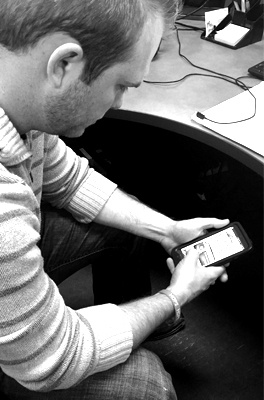 Web design trends change all the time, in part because the technology requires a change to the visual elements. With the continued evolution of mobile devices, responsive design is a critical step in web development, so we asked Jeremy Winter, Art Director at Spindustry Digital, to share three design tips for responsive websites.
Keep the layout simple.
There are going to be a lot of moving parts in the layout as the size of a user's device deviates away from a desktop. Having a complex structure that has to work in all sizes will only add time and budget to the project. Additionally, complex layouts hinder the user experience and complicate access to information.
Use strong photography.
Strong photography has always played an important role in website design. Now that more users are interacting with your company through digital devices, the same beauty and elegance that used to be reserved for the desktop is expected to be carried through the different variations of the responsive site structure. This means more thought and detail needs to be directed toward imagery to accommodate the scaling across a wide range of screen sizes.
Give thought to typography.
Typography is one of the most underrated aspects of design, but modern responsive websites bring this element to the forefront. You probably wouldn't be able to immediately recognize what is wrong with a desktop design when poor typography is used, but you would know something feels amiss. However, when scaled down to a mobile device, it could turn downright unusable.
Like clothing, hair and furniture trends, styles tend to come and go, and eventually come back around again. Winter noted that these three considerations have always been important to design, of course, to create a great looking website. However, now they are vital cornerstones to a great-looking and functional website. Some trends never go out of style.
Are you a trendsetter?
If your organization is looking to update your visual assets to be fresh and functional, we can help evaluate your ideas and give you feedback to maximize layout for mobile devices. Get in touch with us. And if you have 60 seconds, meet a few of our team members.