We recently sat down with Michael Bird, President of Spindustry Digital, to discuss how to approach digital solutions. We even tackle the "what if digital isn't the right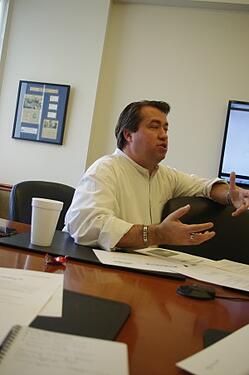 solution" question.
1. How does Spindustry Digital approach client's business problems?
Well, the most important thing is to make sure you are solving the right problem. For example, the conversation starts with "we don't like our website." With a little digging, we discover that it's their brand they don't like or their message, or they do not really know who their audience is for the site. Then we start solving that challenge. In addition, we try to look for opportunities beyond the problem on the table to change the game.

2. Does Spindustry have a formula or process for tackling those challenges?
Not a formula as much as bringing our perspective and experience to the table. We ask good questions and listen. Many times, we have had this conversation before and can put structure to the discussion, where without some context clients could not make sense of the options.

3. How do you help client's prioritize when they have a bunch of challenges they want to tackle now?
Well, again assuming we have the list of the challenges, we start with checking dependencies. Sometimes you have to look at x before y. Then we talk about goals too. Are they looking for quick hit proof or long term success? Or both :)

4. What if it seems that digital isn't the right solution? How do you handle that?
Digital is always the solution :) No, truthfully, to our detriment, we spend more time talking people out of digital than into it, and other solutions for that matter. I know we will be judged on effectiveness in the end so if it's not the solution, we won't suggest it. Thankfully, digital plays some role in solving the types of problems companies have in communications. That is why we have broadened into helping with a wider array of marketing and branding services. We want to be able to help solve challenges across different spectrums.

5. What does an integrated digital solution look like?
Of course it depends on the goals, but essentially it is web applications and other solutions surrounded by integrated messaging and supporting traditional marketing tactics. It's a solid campaign, infused with digital to make it powerful, scalable and measurable.

6. What types of skillsets are needed to offer digital solutions?
It all starts with strategy; and strategists that understand what it takes to implement and support digital. You then need designers, programmers, writers, search engine and social experts, and those that support the infrastructure, such as servers.

7. How do you stay up on all the digital trends?
We follow industry leaders, attend seminars and talk to clients and partners. We also look at how expectations change as new things emerge to understand what's a fad and what's going to stick. It's not one source and it's a lot of work.

8. Share a digital tip that's important to all companies.
Start with setting goals and determining what success looks like. Make sure you're monitoring so you know what's already happening, and then get in and change things with digital.

9. What's one question you wish every client asked Spindustry Digital?
I wish they asked what is possible without already having prescribed to limitations. Then we work together as partners to reign in solutions ultimately to available budgets and timelines.

10. Why should a company choose Spindustry for their digital needs?
We have the experience of 17 years succeeding, learning and the perspective that comes with that. We know the latest tools, but are not blinded by the moment vs. knowing what has a record of success. We offer a unique combination of energy and expertise and a reputation for completing projects on time, on budget and on goal.