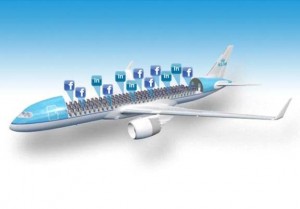 For those who may still be wondering if the social media craze is a fad or not, here's another real-life application that is, indeed, here to stay.
Ever been on a long flight only to have the man or woman seated next to you drive you crazy for hours on end? The Dutch airline KLM, part of the SkyTeam Alliance, has a clever solution for this unfortunate but all too common situation. KLM is piloting (pun intended) a new program that offers passengers on some long haul flights the opportunity to select their travel companions using social media.
Here's how it works; anytime between 2 days and 3 months before your flight, you simply login to the KLM website and share your Facebook or LinkedIn profile. Once you have done that, you can view other passengers' social media profile details. Based on this information you can choose who you want to have sitting next to you on that next long flight. According to KLM the initial feedback is very favorable and as of March 27th they have expanded this unique offering to all flights to/from the US.
Imagine how your business might be able to leverage this same kind of service. When connecting people of like minds, you can achieve a much higher level of customer satisfaction.
Check out KLM's Meet & Seat Program for yourself.